Rotherham Metropolitan Borough Council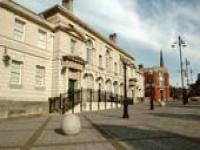 Rotherham Council leaders have welcomed the proposed return of the last remaining powers to come back under democratic control.
23 July 2018
---
A woman who used a family friend's disabled parking badge to park in Rotherham Town Centre has been prosecuted by Rotherham Council.
23 July 2018
---
United Caps, an international manufacturer of caps and closures, has announced it will be constructing a new manufacturing plant in Dinnington, Rotherham.
23 July 2018
---
Residents are being urged to spot the signs of modern slavery and report it through the use of a smart phone app that can be used while at a carwash.
20 July 2018
---
Major repair and resurfacing works to one of Rotherham town centre's major routes will take place from this weekend.
19 July 2018
---
Clifton Park has this week been recognised, for the eighth year running, by the Green Flag Award Scheme as one of the very best in the world.
18 July 2018
---
Older people with dementia in Rotherham have begun to share their life stories and memories with school children in an innovative new project.
16 July 2018
---
A former victim of domestic abuse has spoken openly about the harrowing abuse she suffered in order to encourage others to report it.
12 July 2018
---
Smokefree park signs created by local school children will soon be seen in outdoor play areas across Rotherham.
11 July 2018
---
Pupils from Anston Brook Primary School are enjoying a bike breakfast today (Wednesday 11th July) as part of the school's 'healthy school week'.
11 July 2018
---
A combination of new attractions and old favourites will be on offer at this year's Rotherham Show – still the biggest free-to-enter show in the North of England!
9 July 2018
---
Maltby residents will be able to use their newly merged Library and Customer Services Facilities from August 1 2018.
9 July 2018
---
Lance Bombardier Ben Parkinson MBE will be this year's recipient of the Armed Forces Day flag when it is lowered at a special ceremony in Rotherham.
6 July 2018
---
Rother Valley Country Park has moved a step closer to having its own camping and caravan site, with construction work starting on the £3.7 million development.
5 July 2018
---
In its budget earlier this year, Rotherham Council announced an extra £1 million cash injection for footway and pavement repairs and those additional works are now underway.
4 July 2018
---
A number of new street names have been chosen by children living near one of the borough's newest estates.
4 July 2018
---
Health leaders in Rotherham are to trial giving patients physical activity advice as part of a national pilot scheme.
2 July 2018
---
Plans to get rid of old concrete bins and replace dozens of damaged bins across the borough are set to get the go ahead.
2 July 2018
---
Plans to build more affordable homes, some of which could be brought on site ready-made, are set to be looked at by Rotherham Council.
29 June 2018
---
School pupils in Rotherham have been treated to a World Cup themed walk-to-school event to encourage more pupils and parents to ditch the car and travel to school on foot.
28 June 2018
More from around Rotherham