Rotherham Mayor and Consort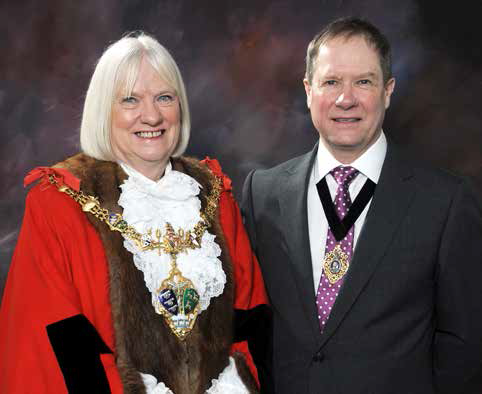 Maggi and Peter Clark are looking forward to their year of office believing it to be "a real honour."
"I hope to give just a little back to the borough and its people, which has given me everything, by starting to rebuild the borough's civic pride," said Maggi. "One of the things that really stood out during our past year as Deputy Mayor and Consort, are the many amazing people that we met.
"These are people who are totally committed to what they are doing and who give their time without seeking any reward or recognition. These unsung heroes do get my admiration and thanks, as they epitomise what this town and borough is all about. I am biased of course, but these are the kind of people who form Rotherham's true foundations.
However, the couple are fully aware that their civic year will play out against a back-drop of incredibly sad circumstances.
"Our thoughts are with the survivors and victims of child sexual exploitation here in our borough," she said. "So while looking forward to playing my part in restoring trust and confidence in Rotherham during my year of office, Peter and I will never forget or marginalise what has happened.
"The authority has been quite-rightly heavily criticised but since the reports last year we have seen enormous changes being made in how we deal with this horrendous legacy. One of my main roles will be to ensure that the change and help to victims and survivors continues whilst reassuring the public that these changes will benefit everyone who lives and works in the borough.
"I appreciate this is going to be difficult but I truly believe that Rotherham will pull together on this. It is my home town, with strong people who do not like to see others let down.
"I love Rotherham and its people, who do so many little kindnesses every day for each other. I believe that together we will do our best for those people who have suffered and will make sure that justice is done. We should all be on guard in the future to ensure that we protect our young people."
This subject is close to Maggi's heart because as a wife, mum and grandma she is passionate about her family. She and Peter have two grown-up children and three granddaughters who mean the world to them.
The couple have lived in the Kimberworth and Scholes area since their marriage over 45 years ago. Kimberworth is where Maggi was born and brought up. She attended Kimberworth Infants, Meadowhall Junior and Rotherham Girls High School before starting work in a local bank.
She left to start a family and then when the children started school she worked part time at St Johns Green Post Office at Kimberworth Park before eventually leaving to become a civil servant in the District Valuer's Office in Rotherham.
It was during this time that Maggi studied for three years with the Open University. She then left work after gaining a place at Sheffield City Polytechnic to study for a degree in Development Studies specialising in Economics and Politics.
"I got a 2:1 degree," she said. "Which I don't think is bad for someone bringing up two children, who were only 11 and nine years old when I began.
"After gaining my degree I worked at the Development Education Centre in Sheffield for many years, a centre which was to become an independent educational charity working to promote a global dimension in both formal and non-formal education."
Maggi became involved in politics during the steel and coal strikes. "I am the daughter of a steelworker and the steel strike was where it all began. During the miners' strike I met many women who were involved with Women Against Pit Closures," she said.
"The strength and courage of many of those women during the year of the pit strike changed my thinking. I went from being an ordinary Labour Party member to an active and politicised one. I realised that only by getting
involved could I make a difference for the better in my local area."
It was in 1990 when Maggi was first elected to the council after winning a seat in the former Central Ward in a by-election. She was elected and returned at three further elections in 1992, 1996 and 2000 but after serving for 12 years, she stood down in 2002 for personal reasons.
"I have no regrets about standing down as I think I had become stuck in a rut and it enabled me to do something different," she said. "At first I went to work for Victim Support but then more recently worked for John Healey, Member of Parliament for Wentworth and the Dearne, and Linda McAvan, Member of the European Parliament
for Yorkshire and the Humber."
Although she had always been active within the Labour Party, she had never even considered going back on the council until 2012. "One of our local councillors stood down and I was encouraged to stand for election for the Keppel Ward," she said.
A year later Maggi retired from her work to devote her time to both the authority and to her family.
Her husband and consort Peter retired two years ago from his job as a Housing Manager for a national housing association. Prior to this he was employed for many years at British Gas, having gone straight from school
to take up an apprenticeship. During his time with British Gas he gained a degree with the Open University. In his spare time he was a semi professional musician and for many years has been a keen photographer.
When time allows the couple enjoy walking, which is Maggi's favourite hobby. "Rotherham is a beautiful place to live and I am a real lover of the local countryside," she said. "I am proud to be a founder member of both
the Rotherham Walking Festival and the Rotherham Churches Tourism Project, a heritage lottery funded project, and latterly Heritage Inspired. This produced a series of guided walks, cycle rides and scenic drives to
enable people to explore some of the diverse communities and histories of South Yorkshire."
Maggi combines her love of walking with her love of raising money for charity and so has completed the Midnight Moonwalk Half Marathon in London as well as taking part in the Rotherham Race for Life every year for the past 12 years. This year she will take part in both the Rotherham Hospice Midnight Memory Walk and the Rotherham Race for Life.
She has also been involved with several community groups over the years as well as serving as a school governor. "I regularly attend meetings of the Thorpe Hesley Community Forum and I am a member of the Management Board of Wortley Hall," she said. "Recently I have also joined Kimberworth Women's Institute.
"I support the 'Love Comes First' initiative that stands up positively for Rotherham against intolerance and hate. "These are all groups who are geared to helping one another. They really sum up the town and the borough and Peter and I are looking forward to meeting many more people and groups like this during our year of office."