Young People get time to question
Published Monday 15th October 12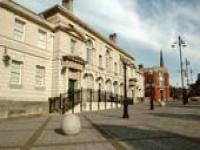 Young People across Rotherham will be finding out more about how to get involved in the local communities next week as the borough marks Local Democracy Week.
A whole range of activities are taking place including a Question Time at Oakwood High School and the launch of the latest Youth Cabinet manifesto.
The Question Time event on Wednesday October 17 will see around 40 students at the school grilling Councillors Mahroof Hussain and Rose McNeely, SY Police Chief Superintendent Jason Harwin, Voluntary Action Rotherham Chief Executive Janet Wheatley and the school's own headteacher David Naisbitt on a variety of subjects chosen by the young people.
Earlier in the week on Monday (15th) Rotherham's Youth Cabinet will launch its latest manifesto at the Town Hall. This year the young people are particularly focussing on areas that are of particular relevelnce to their lives.
Cabinet Member for Communities and Cohesion, Mahroof Hussain, said: "Rotherham has been an enthusiastic supporter of Local Democracy Week for some time as it's vital that we involve young people in their local communities so we can help foster a new group of community leaders for the borough's future.
"The range of events will help young people particularly, but people of all ages as well, to understand how the local authority and other organisations work together in Rotherham and show them ways of getting involved in local decision making."
Every area assembly across the borough is involved in other events in their own community with organisations such as VAR, RotherFed, Community First, Big Local Thurcroft Project and the Schools Linking Network all getting involved.
The events aren't just confined to the Week itself with some running through until later this year. That includes Rotherham's representatives taking part again in the UK Youth Parliament Debate in the House Of Commons in November. Local councillors are also taking part in events closer to home for Rotherham's newer communities to help explain "How The Council Works".
The Schools Linking Network is also running a series of events with various schools and their students learning about the United Nations culminating in a Debate Day being hosted at Rotherham Town Hall in December.
Rotherham's events are all part of "European Local Democracy Week" which is an annual European event where local authorities from all the 47 member states of the Council of Europe organise public events to meet and engage with their citizens on issues of current interest. The aim is to promote and foster democratic participation at a local level. This year it runs from October 15 to 21.
More articles in the news archive.
Rotherham Metropolitan Borough Council news feed | About RSS.