Rotherham Metropolitan Borough Council
A new service designed to make a difference to the lives of deaf and/or blind residents was officially opened earlier this week.
18 October 2017
---
Little ones can get their hands dirty at a special "autumn toddler crafts" workshops at Clifton Park Museum on Tuesday 24 October.
18 October 2017
---
Prepare to be scared this Halloween as students from Rotherham College take you on a terrifying trail into a darker side of the town's history with Rother-Howl: The Rotherham Halloween walk.
18 October 2017
---
Two men were jailed earlier this month, for sexually abusing three girls in Rotherham.
18 October 2017
---
Be bright, be seen, be safe - that's the message being delivered to primary school children in the run up to Bonfire Night.
18 October 2017
---
More than 170 of Rotherham's looked after children and young people have picked up awards for their achievements at a glittering red-carpet event at New York Stadium.
17 October 2017
---
As Hate Crime Awareness Week is marked across Britain, victims of hate crime are being given extra support following the launch of a new campaign in Rotherham.
16 October 2017
---
Visitors can experience amazing sights and sounds when a local river is brought alive with music, boats and visual effects to celebrate Rotherham's steel-making past.
12 October 2017
---
Visitors to Rotherham saw progress being made around Forge Island this week.
11 October 2017
---
Carers are being encouraged to have the flu jab to protect themselves and their loved ones this winter.
11 October 2017
---
Rotherham's Clifton Park has once again been voted one of the nation's favourite green spaces by the public.
11 October 2017
---
Pupils across Rotherham wore yellow today to show other young people that they're not alone when it comes to their mental health as part of a new campaign launch.
10 October 2017
---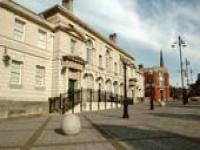 People are being urged to have their say on plans to reform Rotherham's council tax support scheme, as the Council considers its budget options.
10 October 2017
---
The weather is turning colder and the evenings are getting darker - so Rotherham residents are reminded that some Council services have now reverted to winter opening hours.
6 October 2017
---
Rotherham is turning the tables on its past after being lined up for a prestigious employer of the year award.
4 October 2017
---
Rotherham Council is raising awareness of responsible gum disposal with a new campaign to encourage people to appreciate their urban environment.
3 October 2017
---
Rotherham is bucking the national trend, as smoking continues to decline across the borough.
3 October 2017
---
An initiative to develop start-up and young businesses across Rotherham, with free, tailored help and support, launches at Rotherham Parkgate on Saturday 30 September.
29 September 2017
---
Parents and carers of children and young people who require specialist home to school transport are being urged to tell the Council their views.
28 September 2017
---
Were you a 50s babe? Or brought up in the 70s? Visit Clifton Park Museum's new exhibition and relive your fondest childhood memories.
27 September 2017
More from around Rotherham