The Rotherham Armed Forces Community Covenant is a promise to those who serve, or who have served, and their families which says we will do all we can to ensure they are treated fairly and are not disadvantaged by their service in their day-to-day lives.
The Covenant encourages support for the armed forces community living in Rotherham and recognises the sacrifices made by them.
Over 25 signatory organisations (key businesses, charities and organisations) reaffirmed their commitment to the Rotherham Armed Forces Community Covenant in March 2018.
The signed Covenant can be found on display at Rotherham Town Hall and in the Council's main offices at Riverside House reception.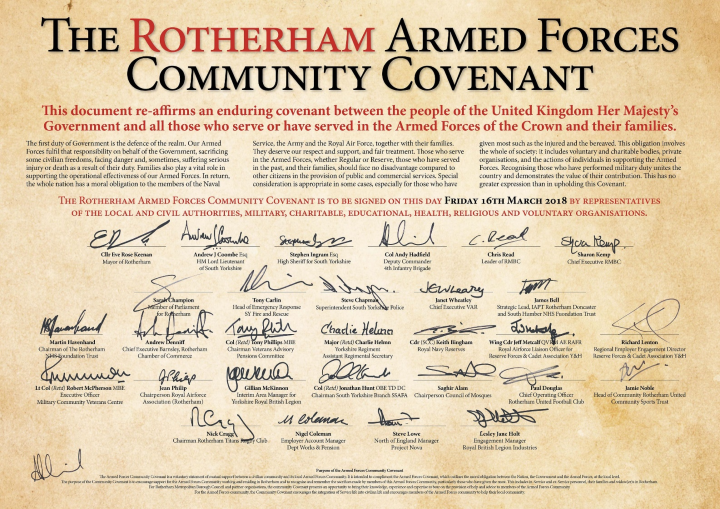 Rotherham Armed Forces Community Covenant Group
All the signatories to the Covenant form the membership of the Rotherham Armed Forces Community Covenant Group which meets quarterly to identify key issues affecting the Armed Forces Community. They work together to ensure that any failings affecting the armed forces community are challenged and changed. The Group also works together to develop good practice in implementing the Armed Forces Covenant across Rotherham.
The meeting is chaired by the Council's Armed Forces Champion.
Who are the leads within the Council?
There is an Elected Member Armed Forces Champion, Cllr Alan Buckley and Lead Officer, Vicky Hartley.
Please contact Vicky Hartley who is the Council's Executive Office Manager and Armed Forces Lead officer on 01709 255100 or at [email protected].
Armed Forces Champion Cllr Alan Buckley Profile
I served for 30 years with South Yorkshire Fire & Rescue at numerous stations entirely on operations retiring as a Crew Manager, so I like to think this has given me an insight into service ways and traditions. I have always been active within my community having been a Parish Councillor for over 30 years, so it was a natural route for me to become a Borough Councillor in 2010.
I suppose I have always had an interest in military matters and amongst my hobbies are researching and collecting medals and reading military history books. I believe it is significant that Rotherham played a major role in the development of bridging during W.W.2 via the Bailey Bridge and now continue to provide a different but just as important kind of bridge to assist armed forces personnel in their transition into civilian life.