The Centre, Hot Food Project
At the beginning of the lockdown Trustees and staff at The Centre in Brinsworth decided they wanted to do something to help their local community, so they set up 'The Hot Food Project'.
Sue Widdowson, The Centre Manager said 'We obtained funding from SYCF(£5000) Groundworks Tesco bags of help (£500) Neighbourly (£400) KH Plant (£300) and crowd funding (£640) as well as cash donations from local people. The project was launched in early May and provides a two-course hot meal for local residents, delivered to their doorstep free of charge. Many of these people are self-isolating and are vulnerable in the current situation. The service not only provides them with a healthy meal, but it provides a friendly face, which can help with the loneliness felt by some of these residents. We have been inundated with requests, we delivered 30 hot meals in the first day and 12 weeks on this has now increased to 43 per day"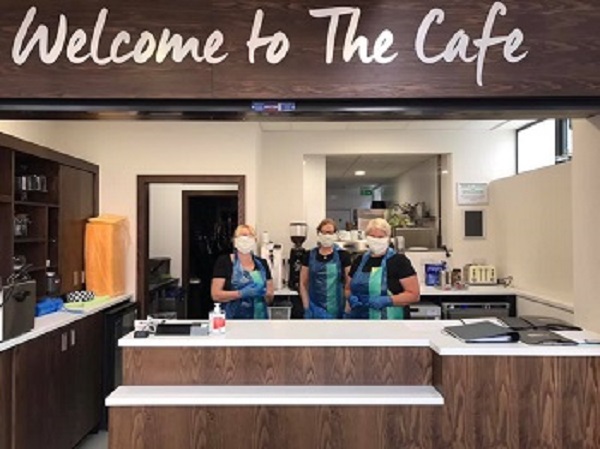 The original goal was to run for 4 weeks, but as funding bids started to come through, we realised we could continue for longer. We approached local businesses to ask for their assistance and we received food donations from Morrisons at Catcliffe who have been donating every week fresh fruit and vegetables, tinned goods, baking products. Tesco in Brinsworth had a collection on their counter and provided our volunteers with chocolates. Singhs Premier donated a wide range of food we could use to make meals. Brinsworth Parish Council purchased and donated food containers for the project and Papa Pizza gave us hot food delivery bags together with supplies of hot food containers. The project has now been running for 12 weeks thanks to the generosity of local people and businesses.
Pauline our amazing cook together with Tina and Bev our volunteers have prepared hot meals and desserts twice a week since the 5th May. We have had a team of volunteer drivers delivering to the residents without fail. We make sure that the meals are delivered piping hot to the residents and we are now at full capacity.
We have become a lifeline for a lot of the very vulnerable, elderly residents of Brinsworth. The ones that have been shielding, unable to go out or too poorly. The have come to rely on us every week for the hot meals and for the company.
We have had a waiting list since the third week of people who wish to use our facility. All with the same issues, shielding, elderly, vulnerable or unable to leave the house through illness or disability.
Three weeks ago, we had to tell these people that we could no longer continue with the service as we were running out of funds. This is not a decision we took lightly and was the worst feeling in the world seeing the desperation on their faces, asking what would happen to them, how would they manage and more importantly they would miss seeing us.
Thankfully we have secured a further small amount of funding which will enable us to run till the end of July/August and we are still looking for more funding opportunities.
We have seen the difference our visits have made to the residents, so we are now looking into ways of further developing this project or a similar type of project on a permanent basis that could provide a support mechanism within the community to fit their needs.
We will need the continued support of volunteers to help with the delivery of meals and welcome new volunteers so that we can look to increase the amount of meals we could provide per day and the frequency.
Anyone who would like to volunteer can contact Sue Widdowson on 01709 916890 (Option 2)