Rotherham Heroes Volunteer Programme
To help further support vulnerable people across the borough, we have established the Rotherham Community Hub with Voluntary Action Rotherham and the Rotherham Together Partnership to coordinate the Rotherham Heroes Volunteer Programme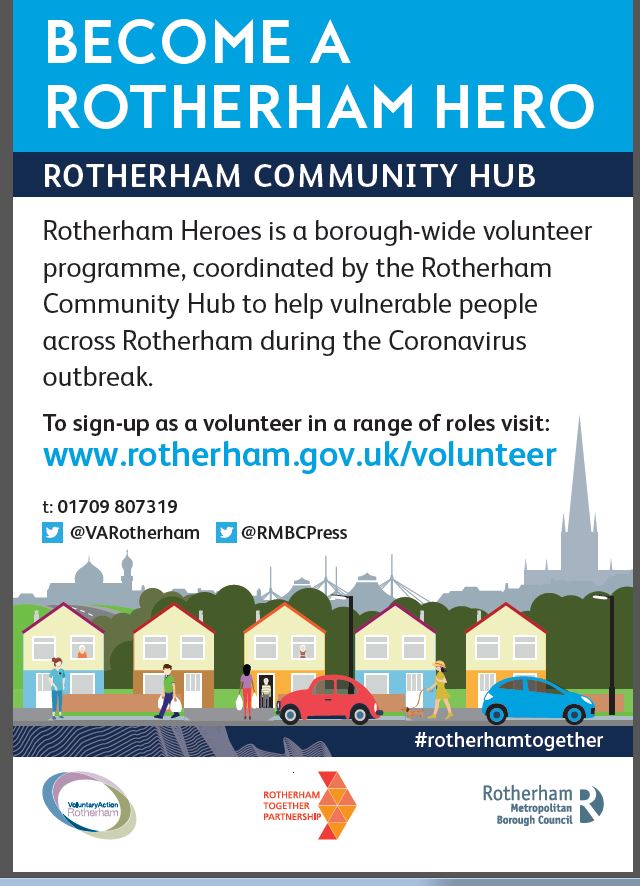 . Today, we are calling out for individuals, organisations, clubs and businesses who want to volunteer. The programme will match volunteers to established groups and make sure the help is being directed where it is most needed.
This is a great opportunity for us to work together as a community to make sure that everyone is getting the support they need during the COVID19 outbreak. Please use and share the attached resources to assist us to raise awareness of this programme. You could also place a link on your own website www.rotherham.gov.uk/volunteer which sends people to the registration form on our website.
The second phase of the campaign will follow shortly afterwards and will be a call to residents to let us know if they need help, this could be help with shopping for essentials, pharmacy pick-ups, dog walking or simply having someone to talk to. We will contact you soon with details on the second phase. For now the key message is the call for volunteers.