Help Keep Wickersley Streets Clean
'Tackling Crime and Anti-social behaviour' is a Ward Priority set by Wickersley Councillors after consultation with local people along with 'Building Stronger Communities' which aims to empower residents to report crime and love where they live,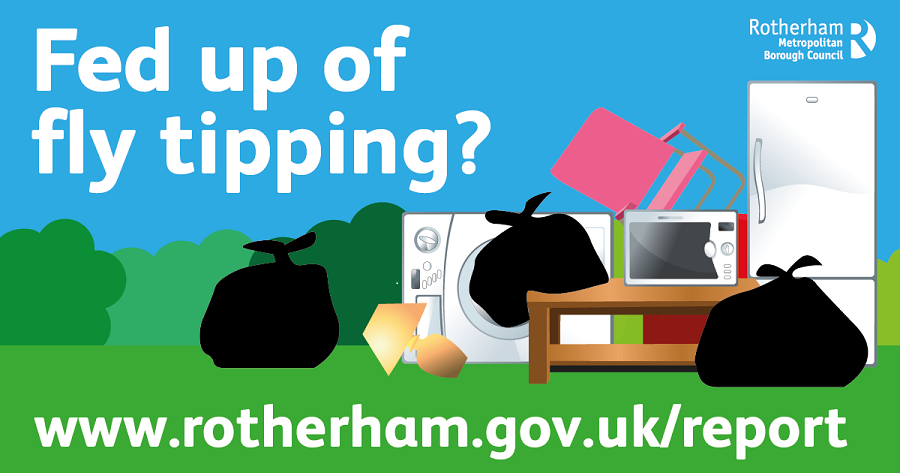 Your Wickersley Councillors, Cllr Hoddinott, Cllr Ellis and Cllr Read have supported initiatives to keep your streets clean including community skips, street cleaners and community litter picks.
Recently there has been reports of an increase in fly tipping in the area and Council officers would like your help in reporting this crime so that offenders can be prosecuted and potentially dangerous items can be safely and quickly removed off your streets.
Donate or Reuse Your Items
We encourage residents to look at reuse options first before disposing of any item. There are many charitable reuse organisations in the borough that collect good quality reusable furniture and household electrical appliances.
Booking a Bulky Item Collection
Rotherham Council can help you with the removal and disposal of larger household items, such as furniture, electrical appliances and DIY waste, such as bathroom suites, window frames, doors from residential properties. The collection date aims to be within 10 working days of payment being received.

The cost of the collection is determined by the item type and the number of items being collected if you are on Benefits you can get a Rothercare Card which gets you 50% of bulky item collection.
Follow this link for further information or call 01709 336000
Household Waste Recycling Centres
Follow this link for useful information about your local recyling centre including opening times.

• Greasbrough - Car Hill, S61 4QL (closed every Wednesday)
• Bramley - Lidget Lane, S65 4LY (closed every Friday)
• Rawmarsh - Warren Vale, S62 7SS (closed every Thursday)
• North Anston - Magilla, Common Road, S25 4AH (closed every Tuesday)
Opening times: 10am to 4pm. Please note, last entry is 15 minutes before closing.
Please be aware this may change due to Covid regulations.
You can find further information regarding issues such as requesting an additional household waste bin, missed bin collections and how to dispose of hazardous waste by clicking on this link to Rotherham Council Rubbish and Recycling page