Rothersteps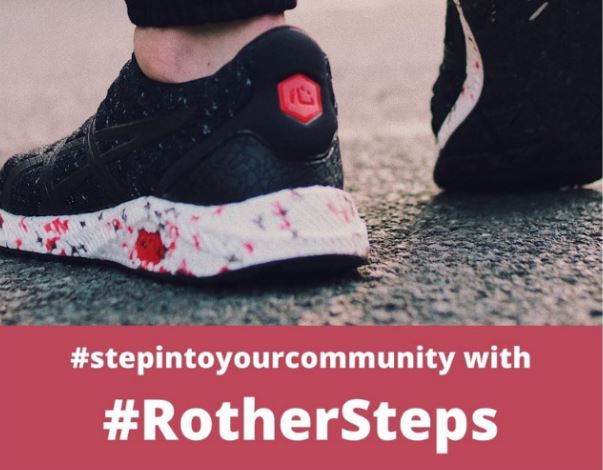 With the weather turning colder and the night's drawing in, you may feel like hibernating inside with a good book or your favourite TV show. However, many physical and mental health experts will agree that walking, especially in a natural environment can improve your wellbeing and fitness to fight the winter blues.
To help you get motivated #Rothersteps is being launched in all wards and will run from the 23rd November to 31st January.
Everyone can take part, whether you are going out for a socially distanced walk or walking around your house/garden. Monitor and screenshot your weekly steps and win prizes.
To sign up or for more details follow this link.
or contact Ian Huddleston on;
E-mail - ian.huddleston@rotherfed.org
Mobile Number - 07945352311
Once you have signed up you will receive a welcome email and a free #rothersteps water bottle. Steps will be recorded by participants taking screenshots of a step tracking app on their phone and uploading them to our Rothersteps Facebook pages. Monthly prizes are drawn for south, central and north Rotherham and are amazon vouchers as followed:

Most Steps
1. 1st Prize - £25
2. 2nd Prize - £15
3. 3rd Prizes - £10
Pot Luck
You will get an entry into the pot luck draw for each week that you submit your steps, so if you enter steps for four weeks on the Facebook page, you will get your name in the draw four time. There will be three prizes drawn and the categories will be Under 18s, Adults and Over 55's. The prizes will be £10 each.
Best Photograph
There will also be a prize for the best photograph taken whilst you're out doing your walk/steps. Once you have submitted the photo it will be uploaded and other people who have signed up to Rothersteps can vote for their favourite.
The prize for this will be £15 so get those cameras snapping.

Places are limited and we start on the 23rd, so sign up on your own or with you children and #stepintoyourcommunity with #rothersteps.