Resident of the Month, January
This month's nomination for Wickersley Ward Resident of The Month came from Ian Watson. Ian not only gives up his time to support residents by volunteering at Sunnyside Supplies Food Bank, he also takes the time to thank individuals, who have themselves worked hard to organise and donate much needed goods.
Ian wanted to give a shout out to Cheryl Barrass. In his nomination letter he stated:

"Cheryl has been a star, helping gather donations from the community and co-ordinating people to get as many donations as possible for Sunnyside Supplies Food Bank.
The amount of food and supplies she has managed to gather together from local residents has been phenomenal! Without Cheryl's help, the Christmas Hampers would definitely have been a lot smaller."
Cllr Emma Hoddinott would like to thank everyone who dedicates their time to support others during the pandemic and states.
"So many people have gone out of their way during the pandemic to help others. It was great to hear about the work Cheryl has done, and in this small way recognise that and say thank you."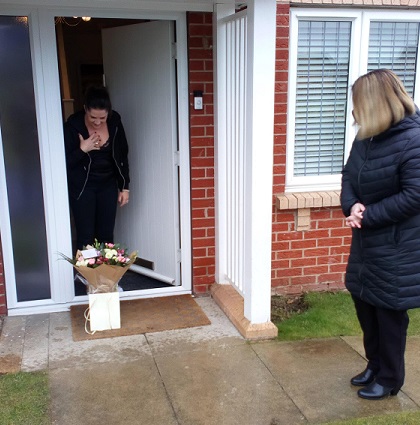 Together with Ian, Cllr Emma Hoddinott presented Cheryl with a bouquet of flowers and £25 voucher to spend at a local florist and gift shop.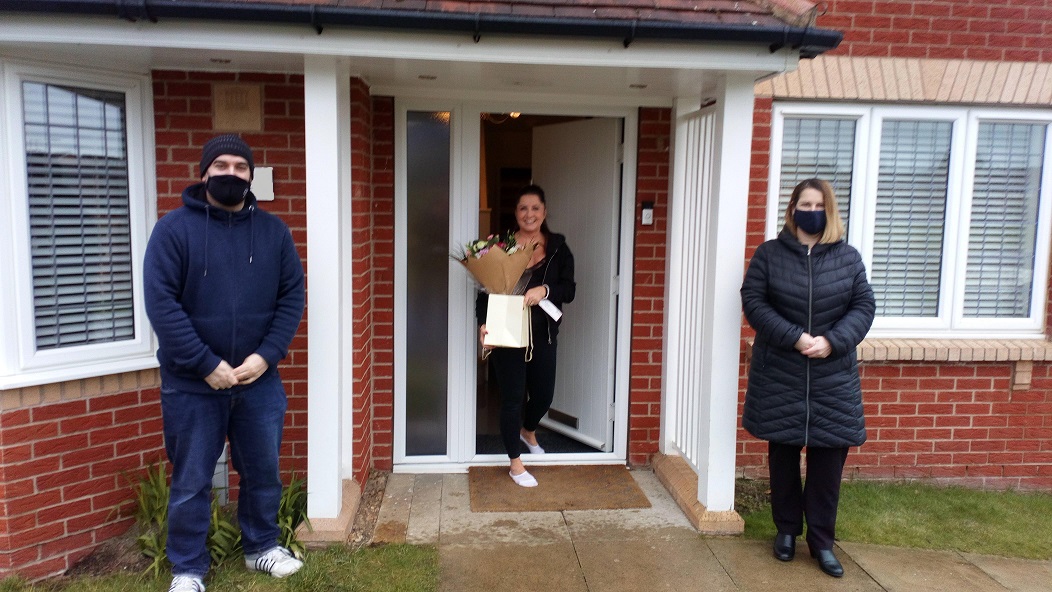 Cheryl used the power of social media and word of mouth to encourage local people to donate much needed food. However, Cheryl took it one step further and made it easier for people to donate by offering up her time and home to store donations.
Cheryl has admitted that it was like having another full time job, she spent hours replying to messages, co-ordinating drop offs, sorting and storing the donations and finally arranging and packing up car loads of goods to deliver to Sunnyside Supplies ready for the Christmas Hampers.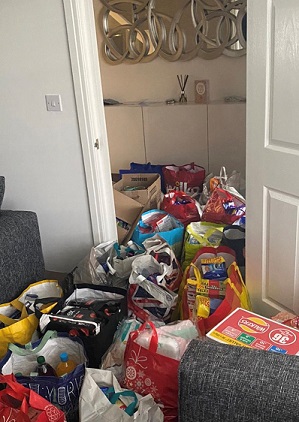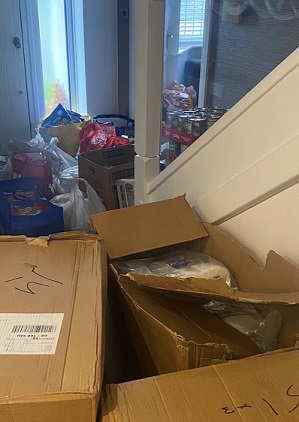 Cheryl has individually thanked many people and groups on her Facebook page that have supported her collection, but wanted to say:
"It's been emotional and overwhelming to see the amount of generosity from people dropping off food parcels at my house, thank you everyone".
Ian has not been the only one to recognise Cheryl's hard work. A local resident contacted Cheryl and explained that she had lived through the Miners' Strike and knows first-hand that without support from others, many families would have gone without food. She wanted Cheryl to pass on her admiration to everyone who has rallied together and shown that in these modern times there is still a huge community spirit, especially from the young ones.
Cheryl herself has been in awe of the support from the younger generation and said:
"There has been a fantastic response from the young people of Wickersley, who often get poorly represented on social media".
Cheryl's sister, Lyndsay Barrass, has also been involved and together with a Bramley Children's Football Club, have collected further donations for Sunnyside Supplies.
Wickersley Ward Councillors, Cllr Hoddinott, Cllr Ellis and Cllr Read, would like to recognise all the great work Wickersley Ward Residents are achieving.
You can help the Councillors highlight the work of an individual. It could be a way of thanking someone who has gone out of their way to help you.
To nominate please e-mail Neighbourhood Co-ordinator, Claire Moseley, at claire.moseley@rotherham.gov.uk with the following information:
• the nominee's name
• where they live
• any contact details
• a summary of the impact the person has made
Please add as much information as you can so that we can share all their wonderful work and send them a special something.