Covid Vaccination Support and Scam Warning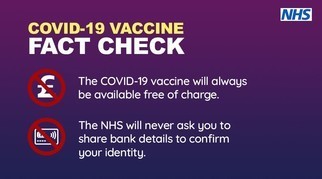 NHS Rotherham CCG is continuing to vaccinate large numbers of people within the high priority groups. As the vaccination programme expands, people are being provided with an additional option to book vaccination appointments via an online booking system. It is your choice if you wish to use this additional option for booking online. If you do not wish to use the online booking form, you will still be contacted via phone call or letter.
Rotherham residents who have mobile phone number registered with their GP practice may receive a text message from ***GP SURGERY*** that will contain a unique link directing you to book.nhs.me to book your vaccination when it is turn to be vaccinated.
Please Note:

• You will only receive the booking text message from ***GP SURGERY*** if you have a registered mobile number with your GP Practice.
• You will only receive an invite for your COVID-19 vaccination when it is your turn.
• You will only be able to book an appointment for yourself. The link included in the text message is unique to you. The system will not allow anyone to use the same link to book an appointment for themselves.
The NHS COVID-19 vaccination text message will sent from 'GP SURGERY' will contain the following information:
Mr / Mrs / Miss / Ms XXX [Your Forename / Surname]
Name of GP Practice
Primary Care Network [PCN] Signature

Once you have booked your appointment, a confirmation text message will be sent to your phone.
If you do not have a mobile number registered with your GP, don't worry. The vaccination booking centre will call you to book your appointment when it's your turn.

Please DO NOT ring your GP Practice for a vaccine appointment.

Getting to your vaccination appointment