February Wickersley Ward Resident of the Month
This Month's Wickersley Ward Resident of the Month nomination came from Rotherfed's, Community Organiser, Rob Gooding. Rotherfed is an organisation that supports communities to grow and develop, working with them to build their sense of belonging, community pride and spirit.
Rob works with many committed volunteers but Wickersley Resident, Jo Workman's community spirit and diverse range of community work before and throughout the Covid pandemic stood out.
Wickersley Ward Councillors, Cllr Hoddinott and Cllr Read, were delighted to surprise Jo with a big bunch of flowers and a £25 gift card to spend at a local florist and gift shop.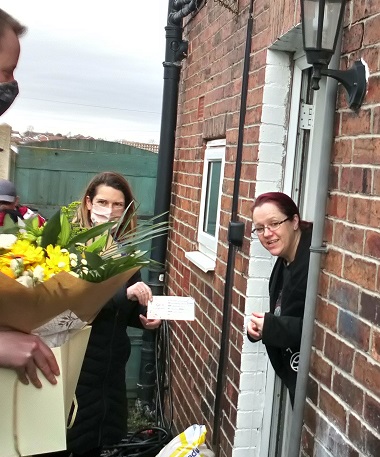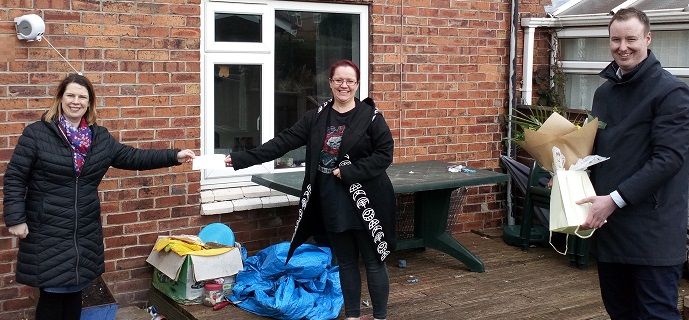 A few years ago, Jo set up a Youth Club for children with Autism based in the Jade Centre, Dinnington. Due to the Club's success, Jo was looking to expand to other locations when the Covid pandemic struck. However, Jo has continued to support the needs of the children and parents in her group by holding regular Zoom sessions and hosting competitions to help alleviate the stress and anxiety caused by the lockdowns. When restrictions eased, Jo organised and held a couple of small meet ups for the group in a local park, where they had exercise sessions put on by DC Boxing.
Right from the beginning of the Covid pandemic, Jo signed up to support her community, volunteering for Rotherham Council's Hero Scheme and NHS Volunteer Responders, whilst busy home-schooling two children. Jo supported residents who are vulnerable, elderly and/or shielding and have no family or friends to help, by shopping for essential goods and picking up pharmacy prescriptions.
With her children, Jo also carries out litter picks around her local streets and has removed around 40 bags of litter since lock down.
When this story was shared on social media, there was a flurry of well wishes in agreement that this recognition of her community spirit and work was well deserved. Jo has supported many people in her community and I am sure there are many more stories to be told.
Follow this link to Wickersley Ward Blog to read more stories about previouse Wickersley Ward Resdents of the Month and how to nominate someone for the final March, Resident of the Month gift.