Wickersley Ward Street Pride Blitz Day
Some of your local Wickersley Ward Streets received a big clean, just before Spring begins to help reduce vegetation growth along the roadside and paths. Along with a Road Sweeper, Street Pride Officers litter picked and brushed the streets clean.
For the first clean up, Wickersley Ward Councillors suggested an area off Northfield Road. This area was chosen because residents have informed the Ward Councillors that vegetation growth in the Summer is problematic due to the soil build up around the curbs and footpaths.
Cllr Read, Cllr Hoddinott and Cllr Ellis popped by on the day to show their support and appreciation to Street Pride Officers.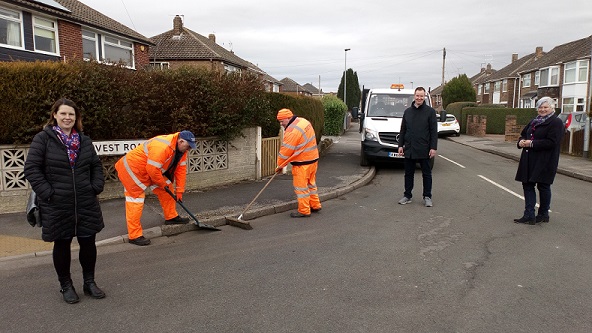 Due to Covid restrictions the Blitz Day work was limited to Street Pride Officers. We hope that on the next Wickersley Ward Blitz Day we can invite you and your neighbours to work alongside Street Pride, Neighbourhoods, Housing Officers and Ward Councillors in the area you care about.