Wickersley Ward, March Resident of the Month
The last Wickersley Resident of the Month goes to a special lady who has shown true neighbourly kindness, support and spirit before and throughout the Covid pandemic.
Three separate residents nominated Rose Simmons, who is 71 years young and lives in the Mark Grove Bungalows, Flanderwell. Rose was nominated for her endless and selfless support, the nominees were full of admiration and gratitude for keeping their spirits and kitchen cupboards full.
Cllr Hoddinott and Cllr Read had the pleasure of surprising Rose with a big bunch of flowers and a voucher to a local florist and gift shop.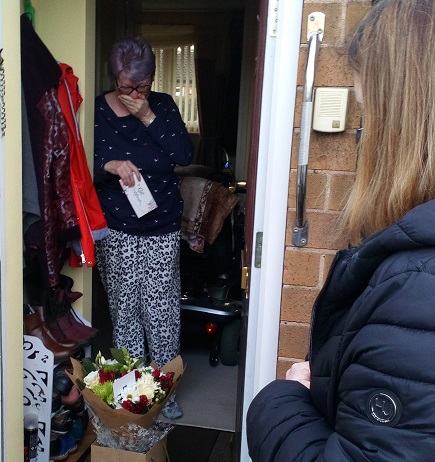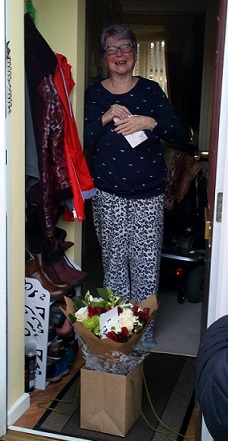 Most of Roses friend's and neighbours are retired and should be enjoying life, having family visits, taking day trips out or enjoying the many activities held in the Mark Grove Neighbourhood Centre. However, due to the pandemic, many of the activities these residents took for granted were put on hold. The Mark Grove Neighbourhood Centre closed, along with the activities that people enjoyed. Understandably residents felt lonely, vulnerable and isolated.

This is where Rose's amazing neighbourly spirit comes in. Rose is always full of life, whether she is participating or organising activities for residents in the Neighbourhood Centre. Before lockdown, Rose set up and organised bingo nights and often could be seen knocking on people's doors to invite or remind them to partake in activities. If people did not turn up for the near daily activities, Rose would be concerned and would be on the case to make sure their absence was not due to ill health.

When the pandemic hit and lockdown was enforced, many of Mark Grove residents fell into the vulnerable category and became housebound. Rose took it upon herself to ensure people were not forgotten.
Over the past year Rose has rang residents up for friendship calls, checked they were feeling well and on a weekly basis shopped for countless essential items for people. One of the nominees said that if Rose could, she would often take things from her own cupboard to ensure people did not go without.
When Covid restrictions allowed and the weather was warm, Rose organised bingo in the communal gardens, where people could sit in their own garden space and play at a social distance. Recently, she has been supporting people to arrange and get to their vaccination appointments.

Here are just a few of the lovely comments:
"Rose has been absolutely wonderful, phoned up every day to ask if we need anything and often goes shopping for us. She will do anything for anyone, we cannot praise her enough for what she has done, even though she has her own physical health issues" Lynne
"She deserves a medal. Rose makes people feel welcome, such a fabulous person. What is amazing is she notices and takes care of the small things" Jackie
"I would be lost without her" Janet