Wickersley War Memorial - The Men Behind the Names
The Parish Council have come together with Wickersley Borough Councillors, Cllr Ellis, Cllr Hoddinott and Cllr Read to commemorate the 28 men who lost their lives and whose names are listed on the Wickersley War Memorial.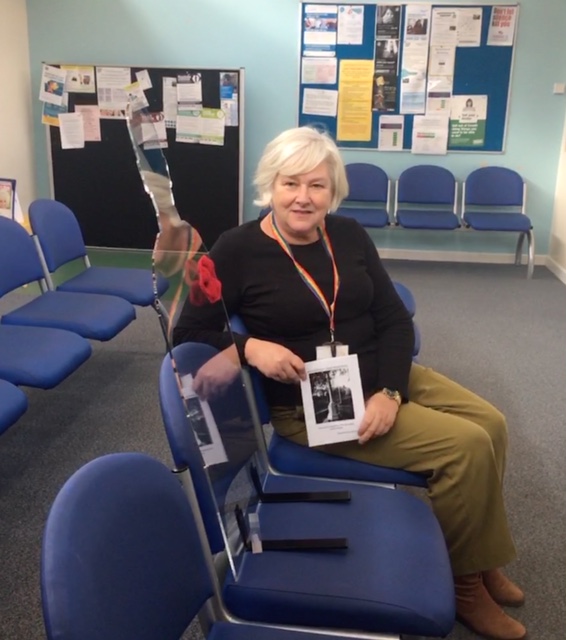 It is now 100 years since the end of World War I or the Great War as it is sometimes known. Between 1914 and 1918 more than 15 million men and women lost their lives as a direct result of the conflict – making it one of the deadliest wars in history. Over 888,000 were British and Commonwealth men. Many Wickersley men enlisted in 1914 and served in the 8th Battalion York and Lancaster Regiment. Because of training and equipping the men didn't get posted to France until 1915. This is the reason why no Wickersley soldiers were killed in 1914. You can visit Clifton Park Museum where the history is outlined in more detail.
"There But Not There" is a nationwide tribute to the men who lost their lives. This campaign hopes to see silhouettes up and down the country, wherever a role call takes place. They have produced acrylic silhouettes designed to fit into seated spaces or to sit on shelves/ledges. 28 silhouettes have been purchased using the Borough Councillor's Community Leadership Fund and are now placed in various settings around the village. Thus echoing the part that the men or their descendants might have played in our community. The sillouettes are made by ex-service men and women and all the profits will go to a group of mental health and armed force charities, as well as aiming to educate all generations about the sacrifices that were made by these men.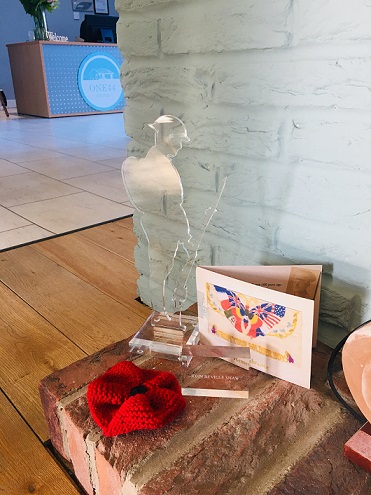 One 44 Dental
The information about the men has been provided courtesy of Joseph Stanley who for his 'A' Levels at Wickersley School and Sports College researched the Soldiers named on the Wickersley War Memorial, many of who served in Battalion York and Lancaster Regiment. He produced a pamphlets called "The Men Behind the Names" which provides a lot more details and information, a copy of which can be viewed in Wickersley Library. Joseph Stanley is now studying at Sheffield University doing a Social History PhD. We would like to thank him for all his hard work and dedication and for allowing us to pick out a few details. As he says,
"On the 11th November, 1918 guns fell silent, it had been a long war and cost so many lives. It might have seemed a lifetime away from when George Osborne was killed in the Spring of 1915 in Gallopoli, the fact remained that so many families had lost loves ones, not just in Wickersley, but across the Country. It is said that every family lost a relative, husband, son or brother".
World War I - 1914 to 1918
George Ernest Osborne - died 25.04.1915
Was Austrialian by nationality and one of the first killed as the allies landed in Galliploi
James Frost - died 08.09.1915
Is shown in "solider died" rather than killed in action which may indicate his death was not a result of enemy action but as a result of a disease
Henry George Carr - died 15.09.1915
Died at home and buried in St. Alban Churchyard. He was training at Canterbury at the time of his death and only was enlisted three months before.
George Rotherforth - died 18.01.1916
A family man who was aged 31 when he died.
John Henry Winder - died 20.02.1916
A member of an old Wickersley cricketing family, prior to enlisting he worked at Birley Colliery.
Henry (Harry) Metcalf - died 17.06.1916
He was born in Wickersley and enlisted in Rotherham.
Joseph (Joe) Hiley - died 01.07.1916
He was a coke ovens worker who was killed in action on the first day of Battle of the Somme.
William Henry Hodgkinson - died 01.07.1916
Killed in action aged 27 on first day of Battle of the Somme.
John Mumford - died 01.07.1916
Lived on Goose Lane, enlisted in Rotherham and died on the first day of the Battle of the Somme.
George Henry Shaw - died 01.07.1916 (see photo of George Henry Shaw below)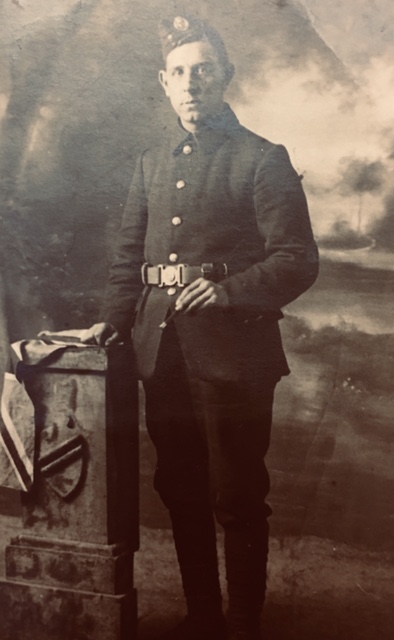 Born in Wickerley and died on the first day of the Battle of the Somme.
John Baker - died 07.07.1916
Born in Wickersley. Before the war worked as a labourer at a colliery.
Francis Holt Yates Titcomb - died 15.04.1917
He was the only Officer from Wickersley to lose his life. He was in the RAF and his death was most likely as a result of a flying accident.
Tom Paulson - died 28.04.1917
He serviced in the 7th Battallion Cameron Highlanders and was buried alongside 64 men from the same regiment (probably a trench grave)
Difficult to trace but the census shows a man of this name was a servant at a house in Brampton.
Walter Walker - died 08.06.1917
Was born in Wickersley and is commemorated on the Ypres (Menin Gate) Memorial.
Joseph Marsh - died 23.07.1917
Buried in the military cemetary in Flanders.
John Stone - died 03.09.1917
He was born in Bramley and buried in Thrybergh Churchyard. His trade prior to the war, was a mechanic at Rother Vale Colliery.
Arthur Smith - died 13.04.1918
Was killed in action aged 19 and lived at 33 Park Mount, Bramley.
Thomas Barker - died 27.04.1918
Came from Quarryfields in Wickersley and died of wounds and is buried in Les Baraques Military Cemetary.
William Bell - died 12.06.1918
Died aged 31 at home and is buried in St. Alban's Churchyard.
John Reville Shaw - died 26.06.1918
Killed in action aged 19. Home was 65 Park Grove, Bramley. In the 1901 census he was listed as having 4 brothers and 2 sisters.
William Varah - died 27.09.1918
Of Pleasant View, Wickersley was in the Coldstream Guards and died when his regiment stormed Sanders Keep a German fortification.
Cyril R Shore – died 24.10.1918
Lived at 2 Park Road, Bramley. He was the last Wickersley solider to be killed 18 days before armistice.
Albert Mulley – Rifle Bragade
Finnial Smith – Kings Own Yorkshire Light Infantry
John H Chambers – Royal Engineers
William H Penistone – Scottish Rifles
John Lee – Royal Field Artillery
Joseph Stanley's pamphlet is available at the Wickersley Library.
Wickersley Health Centre
St Albans Church had a WW1 display event which was held on Friday 9th November, Saturday 10th November and Sunday 11th November 2018. They also had a special service on the Saturday evening and at the War memorial on Morthen Road on Remembrance Sunday 11th November 2018 at 12noon.
Winthrope had a WW1 display throughout November in their tearooms which are open every Tuesday and Thursday 11-3pm.
The locations of the silhouettes were displayed included Wickersley Cricket Club, Wickersley Methodist Church, St Albans Church, Blessed Trinity Church, Lawrence Brothers Wickersley, Wickersley Post Office, One 44 Dental, Wickersley Health Centre's, Wickersley Working Men's Club, Seven Seas fish and chip shop, Wickersley Library, Wickersley Community Centre, Northfield Primary School, Winthrope, Co-op - Tanyard, NatWest Bank at Wickersley, Peter Cusworth Butchers - Tanyard, St Albans Primary School, Mark Grove Neighbourhood Centre, Flanderwell Primary School, Wickersley School and Sports College and Morthen Road Surgery. Two silhouettes were placed on seats in the bus stop at Wickersley on Sunday 11th November.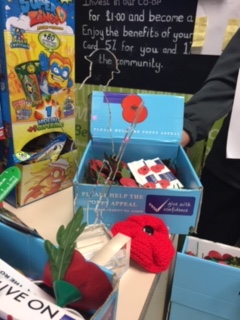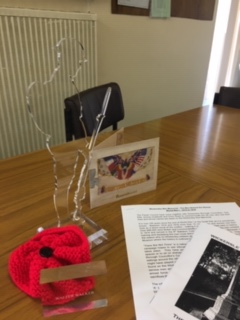 Co-op Mark Grove Neighbourhood Centre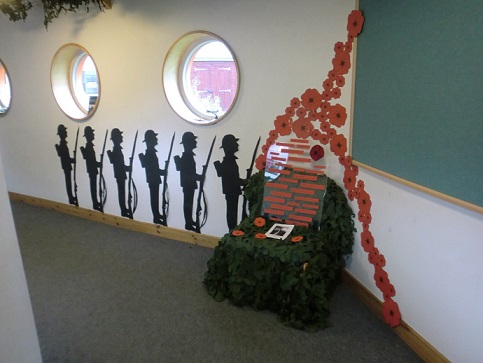 Northfield Primary School