Ability Counts Football
Wickersley School is host to a football training session that celebrates inclusivity, run by Rotherham United Community Spots Trust.
Inclusive football sessions will be available for 7-15 year olds and adults 16+ with visual impairment, deaf or hearing impaired, learning disability, Autism and physical disability.
Sessions are based on meeting individual needs of the participants, whilst ensuring that everyone enjoys playing the game of football.
Jamie Noble the head of community said "We are happy to restart the ability counts football sessions. These sessions offer an inclusive football session for the children of Rotherham who otherwise may not have the opportunities to play football. We thank Wickersley School and Sports College for facilitating our sessions, without their sport the support we wouldn't have been able to continue our ability counts".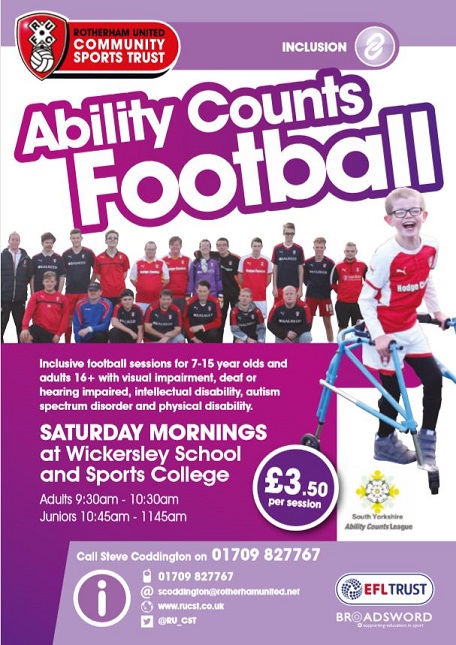 Sessions will be held on Saturday Mornings at Wickersley School and Sports College at £3.50 per session
Adults 9.30am -10.30am
Juniors 10.45am-11.45am
To find out more about this fantastic opportunity visit RUFC Web site, call 01709 827767 or email Steve Coddington on scoddington@rotherhamunited.net.