Sunnyside Bingo is Calling Out for You
Call out for number 4 and 'Knock at the door' of Sunnyside Community Centre, Flanderwell lane for a game of Bingo.
Bingo is held in the centre every Monday and Wednesday night, from 7.30pm, including bank holidays and are welcoming number 23, 'thee and me' to come along and join the fun.
For more information call Linda on 01709 703412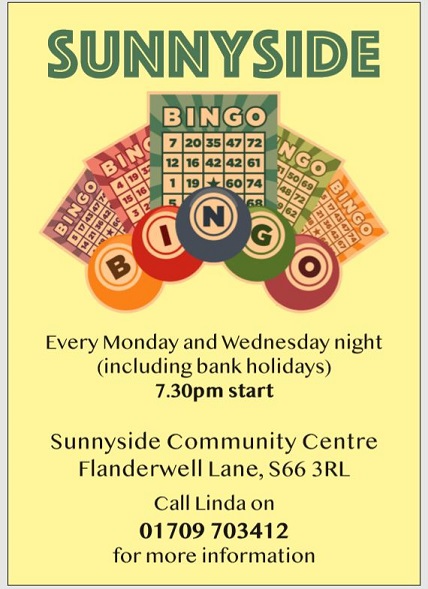 Through resident consultation and working with community partners, Wickersley Ward Councillors identified three main priorities for the ward. One of these priorities is 'Building Stronger Communities'. Community groups are important in neighbourhoods for many reasons such as providing a welcoming place to regularly meet friends and new people. This is important in tackling social isolation and loneliness and promoting wellbeing. Therefore, Councillor Hoddinott funded the production and printing of Sunnyside Bingo Posters to promote the growth of the Bingo community group.
Meeting up with new and existing friends increase your sense of belonging, boost your happiness and reduces your stress. Friends help cope with traumas and release stress by listening, empathising and giving advice. Overall, friends improve your self-confidence and self-worth which means you feel happier. If the benefits of meeting new people does not convince you enough then playing games such as bingo, exercises your brain and can improve your memory.