Rotherham South Neighbourhood Police Safety Advice
Rotherham South Neighbourhood Police team have issued some good advice about keeping yourself and your home safe.
You can find some information issued by Rotherham South Neighbourhood Police below but to find out more and receive regular updates click this link to follow them on their facebook account.
As Government restrictions continue to ease, life beings to look more 'normal' and you travel more and more, please do be vigilant against thieves.
Out and About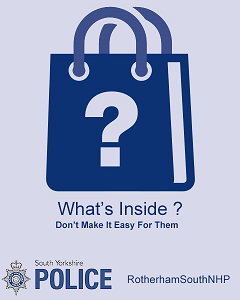 Stay alert - awareness is your best defence.

Wearing earphones is common practice these days and can make walks or jogging more entertaining, however be aware the earphones may appear attractive to potential attackers and reduce your alertness to your surroundings.

If you are carrying a bag make sure the clasp is facing inwards, all zips are closed correctly and all pockets closed. If your bag is snatched let it go, your safety is more important than your property.

If you have expensive items on you such as jewellery, mobile phone, purse or wallet keep it out of sight.

If you have travelled to the shops or a retail park in a car, make sure you lock your vehicle whenever you leave it.

Keep any loose change, keys and other valuables out of site.
Home Security
Homes with no security measures in place are five times more likely to be burgled than those with simple security measures.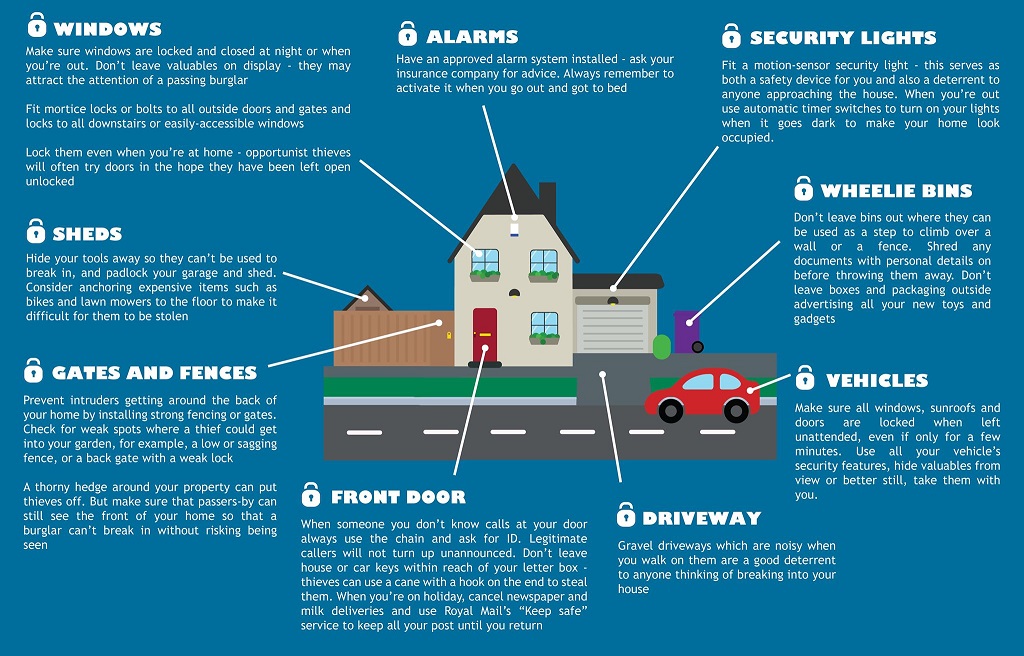 Follow these simple steps whenever you leave your property -
Lock your doors and windows every time you leave the house, even when you're out in the garden.

Hide all keys, including car keys out of sight and away from your letterbox.

Install a visual burglar alarm.

Invest in good outside lighting.

Leave radios or lights in your house on a timer to make the property appear occupied.

Secure bikes by locking them to an immoveable object inside a locked shed or garage.

Keep ladders and tools stored away (thieves could use these to try and break-in.

Ensure all fencing is in good condition.

Remove valuables from view.