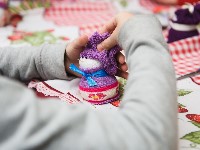 Show off your creative skills and join us for a free Christmas craft workshop at Rotherham Markets on Saturday 7th, 14th and 21st December.
The event will be held at the indoor market ground floor seating area from 10am to 2pm with Dawn from Craft Corner and Eve from Yarntopia.
Everyone is welcome to take part and make a special Christmas keepsake to take home.
7th December, 10am to 2pm - Dawn from Craft Corner
14th December, 10am to 2pm - Eve from Yarntopia
21st December, 10am to 2pm - Dawn from Craft Corner