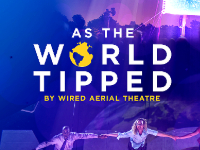 WE Great Place are bringing one of the best outdoor art shows to Rotherham!
Combining dramatic film and visuals with breath-taking aerial performance, AS THE WORLD TIPPED confronts one of the most pressing issues for the planet with spectacle, humour and emotion. Suspended above the audience in the night sky, performers struggle to control their increasingly precarious world as they battle with the effects of a drastic environmental catastrophe.
AS THE WORLD TIPPED is regarded as one of the finest large-scale outdoor shows to be produced by UK company and will create an unmissable spectacular, building on the success of the Man Engine show in 2018 and the summer's WE Wonder Festival.