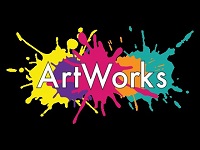 This Is Us - An exhibition of work by Artworks artists in the Cafe at Riverside
'This Is Us' showcases work by artists in Rotherham with physical and learning disabilities. All the works featured were created by artists who attend Artworks Rotherham and created the work during workshops in 2019 and 2020. The artists involved were tasked with creating a piece of work which was related to their personal interests. Using their own interests as a subject matter, they then utilized a selection and combination of different mediums to produce the individual pieces of artwork's in this exhibition.

Through this diverse collection of works, we hope to continue to showcase the talents of our emerging artists in Rotherham, as well as challenging perceptions of disabilities through celebrating the creativity, individuality and ambition of all the artists involved.

All the artists involved are represented and supported by ArtWorks. ArtWorks is a not for profit organisation which pro-vides creative opportunities, placements and help with artist devel-opment for adults with physical and learning disabilities.

At Artworks we focus on achievement, self-belief, collaborative practice and teamwork whilst supporting our artists to play an ac-tive role within their community.
This event will run in line with customer opening hours from January 27th 2020 to February 28th 2020.