Rotherham Council – by-election result
Published Friday, 3rd February 2017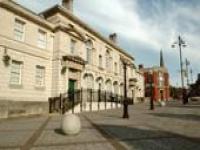 New councillors have been elected to Rotherham Council following by-elections in two of the borough's wards.
Two seats – one in Brinsworth and Catcliffe, and one in Dinnington – were up for election on Thursday 2 February.
Liberal Democrat candidate Adam Carter was elected in the Brinsworth and Catcliffe ward, which saw a turn-out of almost 32 per cent.
Labour candidate John Vjestica was elected in the Dinnington ward, which saw a turn-out of around 19 per cent.
It means the make-up over the overall council is now as below:
48 Labour
13 UKIP
1 Independent
1 Lib Dem
The vacancies arose due to the resignation of former councillors Andrew Roddison (Brinsworth and Catcliffe - Labour) and Ian Finnie (Dinnington - UKIP) in December 2016.