Mayor's open invitation to tour Town Hall
Published Tuesday, 21st March 2017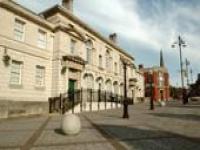 The Mayor of Rotherham will be hosting an open day at Town Hall for members of the public to showcase the history and heritage of Rotherham's democratic hub.
Tours will begin at 11:00am and continue on the hour throughout the day. Visitors will be shown all areas of Town Hall including the main council chamber, Mayor's parlour and all civic regalia, with talks on the significance and history of the building, its rooms and ceremonial ornaments.
Mayor of Rotherham, Cllr Lyndsay Pitchley, said: "It's a great opportunity for residents to learn about the political and civic history of Rotherham, and view areas of Town Hall not usually accessible to members of the public. The Town Hall is the beating heart of Rotherham's local democracy, and this open day will provide a wonderful opportunity to learn more about what happens here and also give residents a sense of heritage and tradition unique to the political elements of Rotherham."
As well as tours, there will be opportunities to have a morning coffee (10:30am) or afternoon tea (2:30pm) with the Mayor, including a chance to speak to her three chosen charities (Autism Society UK, Alzheimer's UK and Guide Dogs for the blind) who will have stalls in the John Smith Room. The open day will take place on Monday 3 April, for more information, contact Rotherham Town Hall or visit the Mayor's Facebook page.
Call Rotherham Town Hall on 01709822740
Visit the Mayor's Facebook Page