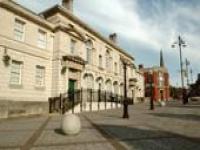 The burial ground at East Herringthorpe cemetery will re-open from tomorrow (Thursday, 23rd April) following a change to the national Public Health regulations stating that crematoriums must close.
The Health Protection (Coronavirus, Restrictions) (England) Regulations 2020 have been changed to allow all burial grounds, gardens of remembrance or grounds surrounding a crematorium to open.
Rotherham Council's Assistant Director for Culture, Sport and Tourism Polly Hamilton said: "The initial regulations relating to the closure of cemeteries and crematoriums caused confusion across the country, so we lobbied hard as a Council to get the position clarified and for a review of the decision. We are therefore pleased this amendment has now been made to the regulations to allow the burial ground at the crematorium to re-open and that people are now able to visit the graves of loved ones."
Cllr Emma Hoddinott, Rotherham Council's Cabinet member for Waste, Roads and Community Safety, added: "I am pleased that the Government has now confirmed to councils that it has changed the regulations to allow all burial grounds, gardens of remembrance or grounds surrounding a crematorium, such as Herringthorpe, to open.
"Sadly whilst it was always going to be distressing to families that they were unable to visit loved ones whilst grieving, the Government's approach to making statements in the media first and changing the rules second has only made a difficult situation worse."
Although the burial ground is open, in line with the amended regulations, the crematorium building must remain closed unless a service is taking place. Social distancing within both the burial ground and services must be observed at all times.
Funeral services can only go ahead with 10 people in attendance. Read the latest guidance.
The following cemeteries and burial grounds were also re-opened to the public on Tuesday, 21st April following a review by Rotherham Council, and in light of changing advice from the national body the Institute of Cemetery and Crematorium Management and further advice from the Government over the weekend: Maltby, Moorgate, Haugh Road, Greasbrough, Greasbrough Lane, Masbrough, and Wath.
Crematorium and grounds staff are there to support the delivery of this highly-sensitive service at a time when grieving families are at their most vulnerable. Please help them to do their job well by abiding by the rules and treating them with respect and courtesy.
The burial ground will be open as per normal summer opening times, from 9am until 8pm.