Council budget proposals put the most vulnerable residents first
Published Wednesday, 7th February 2018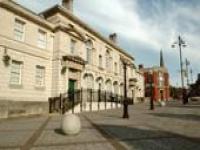 Adults and children's social care will be prioritised under Council budget proposals promise leaders, despite the Council facing more bleak funding cuts.
Councillors will formally make budget proposals at the Cabinet and Commissioners' decision making meeting on February 19th, as Rotherham Council aims to balance its books in the face of further government funding cuts.
Proposals published today prioritise both adult and children's social care as the Council seeks to save £15.1 million in the 12 months from April.
Following their recent 'good' Ofsted rating, children's social care would continue to benefit from the substantial investment made over the last two years; whilst adult social care is not earmarked for further reductions in its cash budget in the coming year, should the proposals be approved.
Under the proposals, residents will be asked to pay an additional three per cent in the government's Adult Social Care Levy which will be ring fenced to meet the growing cost of vulnerable young people reaching adulthood, the rising cost of social care contracts that are beyond the Council's control, and further investments in improving the work of social workers in order to better meet the needs of vulnerable adults.
In addition council tax is proposed to rise by a further 2.99 per cent, with nearly a million pounds of the money raised committed to allow the Council to move towards the introduction of kerbside collection of plastics – an issue that has been raised as a priority by residents in the recent waste service consultation.
Cllr Chris Read, Leader of Rotherham Council said: "I have said over recent months that this is the most difficult budget year that many of us have ever known. We are doing all that we can to protect valuable local services.
"Like most other councils, we need to meet the growing need for social care, which already accounts for about two thirds of the Council's budget, and after eight years of cuts in government funding there are no easy answers. We continue to prioritise those children and adults who need those services the most."
The budget proposals come as the shortfall in the Council's funding since 2010 reaches a total of £162 million. 1,800 jobs have been lost at the Council over this time, with 83 further full time equivalent posts expected to go over the next two years.
Today's capital budget proposals would mean up to an additional £600,000 investment in new bins and street cleaning equipment and £1 million extra to repair damaged pavements – in addition to continuing the Council's £10 million 2020 Roads Programme.
A further £838,000 would be committed to capital investment creating more local school places for children with special educational needs and disabilities (SEND), following recent consultation.
Cllr Read added: "These proposals also take account of the conversations we have had with members of the public over the last few months. We know that basic street cleaning is important to residents, so we are proposing to invest in it, including an extra £1 million for our worn out pavements.
"And we have listened closely to residents who told us that we have to change the way that we collect household waste, as they want to see plastics collected for recycling at the kerbside. We are therefore setting aside the additional council tax we are able to raise this year to make provision for this, and we will bring forward more detailed proposals over the coming weeks."
Whilst the majority of the savings the Council needs to make are proposed to be found from new and increased sources of revenue, careful treasury management of the Council's finances and cash flow, and reduction of costs where possible, today's proposals also involve reductions in spending on some areas of Council services.
Changes to the way youth club and children's centre provision is delivered are expected to be considered in order to save £175,000 a year each year for the next two years. The Rotherham Youth Enterprise (RYE) service is proposed to be scaled back and brought within the remit of the Council's economic development wing, RiDO (Rotherham Investment and Development Office), in order to save £133,000 next year, whilst a temporary suspension of non-essential maintenance works at the borough's country parks should save £98,000.