Grants to help build stronger communities
Published Thursday, 21st June 2018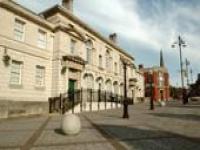 Groups and organisations across Rotherham are set to benefit from funding grants aimed at strengthening local communities.
Rotherham Council and the Rotherham Together Partnership have awarded a total of 20 faith, voluntary and community groups across the borough, with grants of up to £500 for individual groups, or more if the bid is delivered by a partnership of groups.
The grants are part-funded through the Building Stronger Communities fund, a £1.3m government pot which the Council and its partners secured last year. The scheme is intended to help bring together people who might not otherwise have the chance to meet each other, building on the reputation of Rotherham people for their friendly outlook to tackle isolation and increase community cohesion.
Leader of the Council, Cllr Chris Read said this funding, which is the second such allocation in the last year, highlights the Partnership's commitment to strengthening and supporting local communities. He said: "We want everyone in the borough to feel proud of their community, and by bringing people together for celebrations, events, and socialising in ways that they might not ordinarily be able to, we hope to help break down some of the barriers that they might otherwise face. These are relatively small amounts of money, but we know that for some of these groups they will be a real boost to their community activity."
Groups from across the borough put forward submissions to the Partnership about how they would use the money if they were successful. Tackling loneliness and social isolation, supporting people with learning disabilities and promoting understanding are all among the projects to benefit from this latest round of funding.
One group to benefit is Rotherham Deaf Future, which will use its £500 grant to fund the start-up of a café at Springwell Gardens Community Centre. The café will run on Fridays and will allow the group to take charge of a project that enables them to work as a team. The café will serve both the deaf and hearing community with the help of interpreters and will encourage working together and making new friendships.
Steve Ruffle, Chief Executive of Rotherham Federation, which supports Rotherham Deaf Future said: "This small grant really enables the deaf community and Rotherham Deaf Future to develop their ideas for a community café and take this work forward. It's a great opportunity for this group."
And Harthill Workbench, which is a new group with 40 members and still growing, enables people of all ages to meet others from a range of backgrounds and improve, maintain and share their woodworking skills. The money they have received will be used for equipment to remove dust from their working environment.
Also set to benefit is One Voice – a new group recently set up in the Ferham area which is being supported by the Rother Federation and Ferham Children Centre. The aim of the group is to promote social cohesion among women, reduce isolation and increase women's participation and civic engagement.
The theme of the project is 'friendships' across cultures and faiths and aims to shine a 'positive light' on Rotherham through promoting positive relationships between women of different backgrounds. The group is hoping to produce a booklet telling stories about these special bonds which might have started at primary school.
Rotherham Pride, which aims to provide a platform for the LGBT+ community (lesbian, gay, bisexual, trans*, queer, questioning, intersex, non-binary, asexual, polysexual, genderqueer and gender variant people) to raise awareness of LGBT+ issues, promote diversity and campaign for equality, has also benefitted. Their annual LGBT+ event takes place on 14th July at Clifton Park and the grant received will contribute towards this. They bid in partnership with several other organisations involved in the festival and received £1,000.
Kirsty Fletcher, Chair of Rotherham Pride added: "The funding will provide a dedicated interactive workshops and activities area at Rotherham Pride which celebrates LGBT+ culture, history and diversity. The aim is to enhance community cohesion through education and awareness-raising."