Community groups urged to apply for grants for festivities
Published Wednesday, 21st November 2018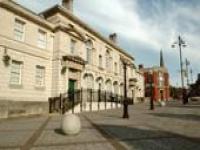 Community groups across the borough have been given some festive cheer after being awarded £1,748 of grants for celebration activities.
Four groups have been awarded the cash from Rotherham Council and the Rotherham Together Partnership's Building Stronger Communities small grants fund. This funding is aimed at bringing people from different backgrounds; different parts of town and of differing age groups together by creating opportunities which wouldn't normally happen for these groups to engage with each other.
The funding just awarded will help groups who bid for the funding to put up Christmas trees and decorations and hold community gatherings in local districts, among other planned activities.
Now the Council is urging other community groups to come forward before the end of the month to bid for further funds should they too be putting on activities aimed at bringing diverse communities together, especially at this time of year.
The groups which have benefitted in this last round of funding include Waverley Residents' Association, which has been granted £500 for its second year of Christmas lights switch on. The association aims to deliver community cohesion by supporting local residents on the newly formed estate with local events.
Harthill Well Dressing group has been given £248 to decorate local wells with Christmas inspired foliage; Wath Events Team have been granted £500 for a Christmas tree and a PA system; and lastly Creative Wellbeing has been given £500. This group works with people affected by or caring for someone with a life-long health condition or disability. The money will be used for support group sessions based at the Addison Centre in Maltby.
Leader of the Council, Cllr Chris Read said this funding, which is the fourth such allocation in the last year, highlights the Partnership's commitment to strengthening and supporting local communities. He said: "These grants have been set up to help people feel proud of their local communities by giving them support to be able to carry out small but significant activities which bring people together.
"Ideally we want to support people through celebration activities, or local events or other innovative ways which can help communities to bond and to socialise in a way perhaps not achieved before.
"In particular at this time of year, we would like to hear from different faith groups and organisations about the work they may be doing already in the community to bring people of different backgrounds and faiths together. I would urge people to apply quickly for the next round of funding as there is not much time left to do so. An injection of cash might be just the thing local groups need to help boost celebration events which are already planned, or which need this investment in order to go ahead."
The grants are part-funded through the Building Stronger Communities fund, a £1.3m government pot which the Council and its partners secured last year. The scheme is intended to help bring together people who might not otherwise have the chance to meet each other, building on the reputation of Rotherham people for their friendly outlook to tackle isolation and increase community cohesion.
The deadline for the next round of applications, and the last funds to be granted before the New Year, is on November 30th.
To apply please visit: www.varotherham.org.uk/news/rmbc-building-stronger-communities-small-grants/