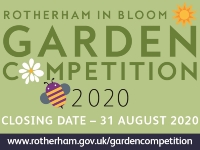 Rotherham Council has launched Rotherham in Bloom, its annual gardening competition, inviting all Rotherham residents to enter the popular contest.
The competition has previously only been open to council tenants but this year entries from both council and non-council tenants are welcomed, meaning any Rotherham resident can apply.
The competition, held across the whole borough, has several categories including: best garden, best young gardener under 25, best pots, planters and hanging baskets, best vegetable patch, best children's container garden and best wildlife garden.
Cllr Dominic Beck, cabinet member for housing said: "In these times of uncertainty and change, people are valuing their gardens more than ever, and for some once-neglected borders are now flourishing and vegetable patches are sprouting new leaves.
"Prioritising physical and mental wellbeing has helped many people to adapt to new routines. Taking time out to do the things that help us rest and unwind, such as gardening, have been a great help and brought a lot of people a lot of joy. This is why this year we have opened up this ever-popular competition to the whole of the borough.
"We have also introduced new categories for tenants to enter such as: the best wildlife garden for those who provide sanctuaries for birds, bees and insects and, for our younger residents, best children's container garden.
"With children being at home more than ever over the past few months many have been out in their gardens getting creative using everyday household items to make mini gardens. I've seen flower beds and herbs planted in everything from old sweet tins to wellington boots – a lovely way to get the next generation of green fingered gardeners started. This category, which will be chosen by the Mayor of Rotherham, is to recognise and reward them for all their hard work."
The competition is held in partnership with Rotherham Federation of Communities and supported by the Council's housing maintenance and repairs partners Mears and Engie. Due to the current restrictions this year's competition will move to a digital format. Gardens will be judged on photographs sent to the Council along with the answer to the question: What does your garden mean to you?
Rotherham Council's Assistant Director for Housing, Tom Bell, said: "We welcome all residents who love nurturing their garden to enter the competition. Maybe you have turned your garden into an oasis during a difficult time, or maybe you have created a mini haven for our local wildlife. Or you might see it as a great opportunity to get out in the fresh air and keep active.
"Whether you have been a lifelong gardener or you're a novice we would love to hear what your garden means to you.
"This is a fantastic opportunity to recognise our residents for all their hard work which they have put into making Rotherham a strong community in a clean and safe environment which is more welcoming and a place to be proud of."
Each category will have two winners, one Council and one non-Council tenant each winning £100 with two runners up in each category each receiving £50.
To enter the competition simply upload three photos of your garden along with a few words about what your garden means to you to.
The closing date for entries is 31 August with winners announced in September.