Budget plans set to be agreed
Published Wednesday, 6th February 2019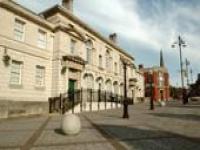 Council leaders have responded to public feedback in bringing forward their budget proposals for the next two years – but are warning that financial pressures are set to continue.
Rotherham Council has a funding gap of £30m which it needs to address over the next two years. By 2020 the Council will have had to cut more than £200 million from its budget.
The budget proposals went out for public consultation last October. This included prioritising and protecting the most vulnerable in terms of children and families at a time when there is an increased demand from those who need council support. The Council is now proposing to commit an additional £17 million over the next two years to meet the needs of looking after the borough's most vulnerable children and families.
Proposed funding cuts to Rotherham Healthwatch and the charity Sight and Sound have been reduced following feedback from the public and consultation with the two organisations.
Savings are planned to come from the closure of Bailey House and Rawmarsh depot, as well as the Council making better use of online and digital technologies to reduce back office costs and improve customer services. The Council is already planning to save nearly half a million pounds next year after successfully renegotiating the lease on its Riverside House headquarters.
In setting its fees and charges for the coming year the Council is also proposing to respond to long term demands for more free town centre parking at weekends. Extending free weekend parking to Wellgate multi-storey and Drummond Street – in addition to the existing offer on Forge Island – will mean 1,000 free council car parking spaces in the town centre every Saturday throughout the year.
Rotherham Council Leader Cllr Chris Read said: "These continue to be deeply challenging times for councils right across the country, with no end in sight to the reductions in government funding that have hit communities like ours so hard. Building on the huge improvements in our Children's Social Care over the last few years, our proposals will ensure that we meet our commitments to our most vulnerable children. We are doing all that we can to put both Adult and Children's Social Care on a sustainable financial footing. And we have listened to the feedback we received on individual proposals and are responding to what residents told us."
He added: "Of course, where we do have the ability to continue to make investments then we do so. So our budget will continue to ensure we are investing in improving Rotherham's roads, in building more council housing, and in the town centre. I'm pleased that we are able extend free town centre parking on Saturdays. But the fundamental financial pressures faced by all councils continue. No one should be in any doubt that austerity is not over yet."
Council leaders are also expected to agree a council tax rise of 2.99 per cent, which is equivalent to 57 pence per week for the average Rotherham household. There will also be around 175 jobs expected to be lost at the council as a result of the savings proposals.
Cabinet members are expected to confirm the proposals at a meeting on February 18 ahead of the Council's budget setting meeting on February 27.