Rotherham Council's response to the New Zealand Terrorism attack
Published Friday, 15th March 2019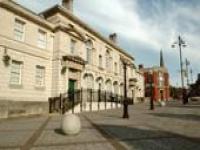 Leader of Rotherham Council, Cllr Chris Read, said: "This is awful news from Christchurch in New Zealand. Our thoughts are with all those affected, and of course first and foremost with the Muslim community.
All decent people will be revolted by the sickening ideology of those who seek to divide us.
"That the perpetrator of this violence apparently sought in some twisted way to use our town's history to justify his actions makes this personal to us. Rotherham has already seen far too much violence. Our community will continue to stand united for decency and the rule of law.
"We stand with Muslim communities around the world and in Rotherham against all forms of anti-Muslim hatred. We will not let extremists divide our communities.
"Rotherham Council is currently working closely with South Yorkshire Police who are stepping up patrols to provide additional reassurance to local communities.
"We urge everyone to stand together and join us in stamping out hate in our communities. We encourage anyone has witnessed or been subject to hate crime to report it to the Police by calling 101 or 999 in an emergency, or report online via the South Yorkshire Police website."