Zero policy on new sex establishments
Published Tuesday, 28th May 2019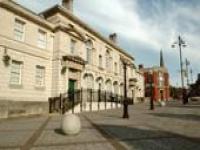 The Council is set to adopt a tough stance on sex establishments being set up in Rotherham following overwhelming backing for these changes.
Earlier this year residents and community leaders gave their backing to the rules around sex establishments in the borough being tightened.
People were asked through a consultation exercise what areas of Rotherham they thought were not suitable for sex establishments, like strip and lap dancing clubs, to operate. This included near schools, places of worship, women's refuges, play areas and theatres.
The Council also consulted on introducing regulations to ensure those working in such premises were treated fairly.
More than three-quarters of people said they wanted tougher rules both for stopping new venues opening and also to ensure workers' rights. Now the Council's Cabinet is expected to introduce a zero policy on any new establishments being set up.
Cllr Emma Hoddinott, Cabinet Member for Community Safety said: "People have told us their concerns and it is clear people don't want to see these sort of establishments in their local areas. We also heard concerns about how these clubs operate. Therefore I'm pleased we will looking to bring in a nil policy, for lap dancing clubs across Rotherham."
The Council has already adopted schedule three of the Local Government (Miscellaneous Provisions) Act 1982, meaning more types of venue would require specialised licences and would not simply be licensed under the same rules as bars and nightclubs, as had been the previous position.
The laws have tightened up nationally in recent years, following the introduction of the Police and Crime Act 2009, including establishments having to apply for licences on an annual basis.
The Cabinet is expected to agree a new policy at its meeting on 10 June.