Flytippers warned, "We're watching you" after recent prosecutions
Published Wednesday, 11th September 2019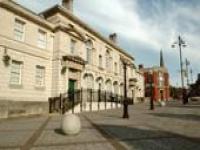 Rotherham Council is warning potential fly tippers not to break the law after two recent convictions were secured using footage from CCTV, costing the offenders a total of £1,600.
Earlier this year, a council officer discovered ten bags of soil and rubbish in a layby in Treeton. The waste had been left by someone who was captured on CCTV installed in the area, illegally depositing the waste.
Footage recovered from the device showed that on 23 March, 2019, a male van driver deposited several bags of soil and rubbish from the vehicle and emptied them on a layby before driving away.
The owner of the van was traced by council enforcement officers and when interviewed admitted to the offences and that the fly-tipping was generated by his business.
Businessman Ambrose King, a driveway installer who runs a Doncaster-based company, pleaded guilty to fly-tipping offences on 13 August, 2019. Sheffield Magistrates fined Mr. King of Lambert Road, Doncaster, £500 for the offences and ordered him to pay £398 costs and a victim surcharge of £50, a total of £948.
In a separate case, Paul Booth of West Avenue, Rotherham pleaded guilty to fly-tipping on two separate occasions in March and April 2019 at Nether Haugh and Munsbrough. He was ordered to pay a total of £728 after he admitted dumping household rubbish and soil and rubble.

The court was told that CCTV installed at these locations recorded footage capturing evidence of the person fly-tipping the waste before driving away.
Rotherham Council's Cabinet Member for Waste, Roads and Community Safety, Cllr Emma Hoddinott, said: "Fly tipping blights our local communities and the Council will take every opportunity to take action against those who perpetrate it. Council staff are able to use fixed penalty notices as well as criminal proceedings against offenders, backed up by CCTV cameras. Anyone tempted to commit these kinds of offences should know that their acts may be caught on camera."
Report fly tipping on our website
Call Streetpride on 01709 336003