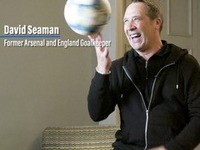 A video, starring Kimberworth-born and bred David "Safe Hands" Seaman is touring the borough this week asking people to follow the guidelines to reduce the risk of infection in Rotherham.
The video is being broadcast on the sides of digital display van touring streets and shopping centre car parks to promote new key messages in light of the Very High COVID Alert level that came into force for South Yorkshire on Saturday.
David Seaman gave up his time to join the campaign after a phone call from his Mum and Dad, who still live in Rotherham.
"My mum asked me to do it, and you can't say no to your mum, can you?" said David, who was capped 75 times playing in goal for England.
"I've got a lot of great memories in Rotherham. It's a place I know is really friendly and people all love to go out. But trust me, this is going to be a long winter and we all need to get through this together so stick to the rules."
David's mum and dad, Pam and Roger Seaman, said: "We know that it's important for people to do everything they can to stay safe, so when the Council asked us if David would be involved we were only too pleased to ask him."
The Leader of Rotherham Council, Cllr Chris Read, said: "The number one thing we've all got to do at the moment is to keep each other safe. So who is better placed to remind us than Rotherham's most famous number one? We are at a critical point in this crisis and we need to encourage everyone to follow the guidance to get us to a point where the latest rules can be eased again. We really appreciate having the footballing legend that is David Seaman helping us to get the message out into the community."
People are being encouraged to follow the key guidelines, which are:
Keep two metres apart
Don't mix with other households
Wash your hands regularly
If you've got coronavirus symptoms, you must get tested
Wear face coverings
The truck will be driving through streets across the borough with people being encouraged to take a picture of themselves and share the messages.