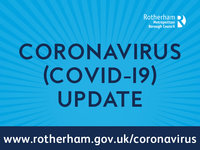 Rotherham's Local Outbreak Engagement Board met on Friday 6 November to discuss the current infection rates in Rotherham.
The Board heard that while the increase in new cases of COVID-19 was beginning to slow, the peak of the second wave was still expected to be some weeks away.
There were 1,361 new cases for Rotherham reported in the week 27th October to 2nd November which was virtually unchanged from 1,360 cases for the previous week.
At the same time the number of people in Rotherham Hospital testing positive has risen to 121, the highest number of COVID patients in the first wave was 78 and there were 22 new COVID-related registered deaths in the borough last week.
Members of the board were told the infection rate was high across the whole borough with numbers also starting to increase in the over 65s age group.
Rotherham Council leader and chair of the LOEB Cllr Chris Read said: "Rotherham has an infection rate of more than 500 cases per 100,000 population, that is among the highest in the country. We very much hope that the early indications we may be turning the corner are accurate, but as we mourn further deaths in the borough this week, we absolutely cannot take that for granted.
"I particularly want to pay tribute to the medical staff at the hospital who are dealing with nearly twice as many Covid patients as at any time earlier this year. We owe it to them, and to each other, to continue to take personal responsibility for following the guidance and supressing the virus further."
Dr Richard Jenkins, Chief Executive of The Rotherham NHS Foundation Trust, said: "Trying to reduce contact with other people reduces the chance of the virus spreading. The less the virus spreads, fewer people get sick and fewer people die. The things we need people to be doing is to follow all of the precautions around hands, face, space."
Current government guidelines include:
staying home wherever possible
keeping two metres apart,
regularly washing hands
wearing a face covering
getting tested if you have symptoms