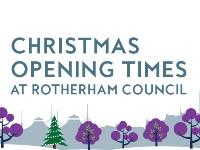 Rotherham residents are reminded that Rotherham Council services will have different opening hours over the Christmas and New Year period.
Hopefully you won't require them, but we are here to support you if you do, so we have listed our essential services on our website in case you need to access them.
We have also included the opening times of our main visitor attractions to help you make the most of the holiday period.
From everyone here at Rotherham Council, we hope you have a very Merry Christmas and a Happy New Year!
Rotherham Council Customer Services (including emergencies):
From 8.00pm on Thursday 24 December 2020 Rotherham Council essential services will be taking emergency telephone calls only. Emergency services are open 24 hours a day, seven days a week.
To report an emergency to the Council, please phone:
Emergency Council House issues and Repairs: 01709 336009
Emergency Highways issues: 01709 336003
Children and Young People's Services: 01709 336080
Adult Social Care (Single Point of Access): 01709 822330
If you are in a crisis as a result of Covid-19 and require immediate help, please telephone 01709 807319
Any other emergency: 01709 382121
If you feel that a child or young person is in immediate danger, please phone 999.
To report non-emergency issues at any time go to www.rotherham.gov.uk/contact
Normal services will resume at 8.00am on Monday 4 January 2020.
Do it online:
You can make online payments for services such as Council Tax, rents or parking fines using credit or debit cards or PayPal. You can manage your business rates or benefits online, renew library books or download eBooks for free.
For full information and emergency contact details, please go to: