Improvement Board membership announced
Published Thursday, 25th September 2014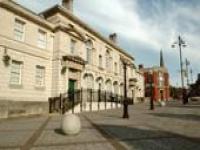 Details of a partnership board set up to steer further improvement by the Council following the publication of the Alexis Jay report have been announced.
Rotherham Council's Leader Cllr Paul Lakin committed to setting up the board in partnership with the Local Government Association (LGA) as part of a package of improvement measures announced by the Council following the publication of the Independent Inquiry into child sexual exploitation.
Independently-chaired and drawing on cross-party membership, the Board will provide oversight, support and challenge to the authority's improvement and transformation journey and – in due course – will respond to the findings of forthcoming inspections by both Ofsted and the Department for Communities and Local Government.
Cllr Lakin said: "We owe the survivors of child sexual exploitation nothing less than our pledge to do everything we can to better protect young people in the future.
"We know public confidence in our services is rightly shaken and we are determined to win it back by our actions.
"This independently-chaired Board is made up of highly experienced officers and elected members from across the country and will guide and challenge our improvement plans over the coming months."
Cllr Peter Fleming, Chair of the LGA's Improvement and Innovation Board, added: "It's vital that Rotherham is given the appropriate support to ensure previous failures to protect young people are not allowed to happen again.
"The LGA is committed to working in partnership with Rotherham Council to ensure children are safe and tackle the issues which have been raised about corporate governance."
Board membership is outlined below:
Independent Chair: Rob Vincent (Local Government Adviser to Public Health England, and former Chief Executive of two Yorkshire councils)
Leader of Rotherham Borough Council: Cllr Paul Lakin
Deputy Leader of Rotherham Borough Council: Cllr Emma Hoddinott
UKIP Group Leader, Rotherham Borough Council: Cllr Caven Vines
Conservative Group Leader, Rotherham Borough Council: Cllr Christopher Middleton
Chief Executive of the Local Government Association (LGA): Carolyn Downs
Leader of Barnsley Metropolitan Borough Council (LGA Member peer): Cllr Steve Houghton
Cambridgeshire County Councillor for Ramsey (LGA Independent Group, UKIP): Cllr Pete Reeve
Deputy Leader of Hillingdon Council (LGA Conservative peer): Cllr David Simmonds
National Children's Improvement Adviser - Local Government Association (LGA): Edwina Grant
Chief Executive of Croydon Council: Nathan Elvery
The Board will meet monthly and will report back into the Council's Cabinet. It will initially be in place for a period of 12 months, but this will be reviewed over the course of the year.
Cllr Lakin added: "The report acknowledges that we have already made improvements in our services although, tragically, this has come far too late for many victims.
"But we are not complacent and we will continue to make sure we do all we can to make sure more young people – both in Rotherham and across the country – are better protected."
Together with the Improvement Board, Cllr Lakin has announced an immediate allocation of £120,000 to support local counselling services for victims and survivors. Consideration is currently being given to how this resource is best used.