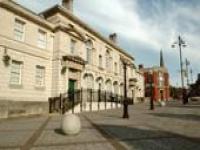 The coronavirus test site at Forge Island will be moving to a new home over the next couple of weeks.
Rotherham Council and the site operators, Deloitte, have decided to make use of the current temporary closure of the site to move the test centre to a new home. This is to make way for the future development work on the new multi-million-pound cinema complex.
The test site will be moving to Herringthorpe Stadium, where it will be available for members of the public to book tests once the site is in place.
Director of Public Health for Rotherham, Ben Anderson, said: "The Forge Island Test Site has been an essential part of reducing the risk of coronavirus since it was first opened in August last year, however, we are making use of the temporary closure to move it to a new site. With developments on Forge Island looking to press ahead over the upcoming months, this was the ideal opportunity to find a new home for this test site.
"Herringthorpe Stadium, located just outside of the town centre, has been chosen as it is in the heart of the community and offers residents who may need to travel from other areas of the borough, good transport links and car parking spaces.
"We are working with the Department of Health and Social Care and Deloitte, who run the site, to ensure that people who live near the test site will not be impacted by the move. I would like to thank everyone in advance of their understanding and apologise for any disruption caused."
Since opening to the public, the Forge Island Test site has tested 13,000 residents for the virus, with many more using the other test sites across the borough.
Those who have symptoms of COVID-19, no matter how mild, are encouraged to book a test at their local test site or arrange for a home test kit either by calling 119 or going online to www.nhs.uk/coronavirus.
Members of the public who have booked a test at the new site will be able to access it through the test site's own dedicated section of the public car park. Signage will be in place to guide people to the entrance.
Residents still wanting to use Herringthorpe Stadium will still have access to the running track. Further details about other sports and activities will be released when restrictions are eased.
The site will also use a different type of diesel generator which will reduce the disruption to residents living nearby when the site it not operating.
The site will be run on a six month license with a review of how the site is running after three months.