A new era for local government as Council sets budget
Published Thursday, 27th February 2014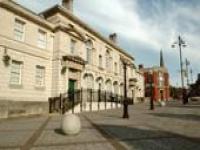 Frontline services will be protected as 'as far as possible,' resources will be targeted to help those most in need and communities will be encouraged to do more for themselves.
That's the basis of a £23m savings package put together by the Council in response to further massive reductions in Government funding.
The Council's Cabinet on Wednesday February 26 approved a range of measures to balance the authority's books in the face of a 'relentless' reduction in the funding it receives to deliver vital services to local people.
The package - which must go before Full Council for final approval on Wednesday March 5 - also includes a recommendation to increase Council Tax by 1.9 per cent, the first rise for four years.
Councillor Roger Stone, Leader of the Council, said Members had moved to safeguard frontline services for as a long as realistically possible, but now continued and unprecedented cuts to funding mean that - regretfully - they can no longer be totally shielded.
"We have already looked hard at every penny we spend and we reduced our back office and management structures early to protect frontline services over recent years. This includes a reduction in our senior management team by 40 per cent and our overall employee numbers have dropped by almost 20 per cent, cutting costs by £27 million every year," he said.
"However, the Government's relentless and devastating budget cuts mean we are entering a new era where we must prioritise spending even more, where we cannot do everything we have previously and where some things have to stop.
"It's an era where our main role will be helping people to become more self-reliant rather than us doing things on their behalf."
The Council - which has already cut £70m from its budget since 2010 - has had to make further savings of £23m for the 2014 /15 financial year, and must find an additional £23m worth of savings by April 2015.
The proposals were drawn up following consultation with the public, and reflect many of the ideas put forward by local people. They include savings from each Council department as below, totalling £14.419m:
• Children and Young People's Service - £3.008m
• Neighbourhoods and Adult Services - £7.015m
• Environment and Development Services - £3.099m
• Resources (back office) - £1.297m
Maximising income, working more efficiently with partners and improving back office systems will also contribute to the total £23m. In addition, the package includes a target to save £0.644m from the review of staff terms and conditions, which will be the subject of consultation with employees and unions.
Cllr Stone added that there were no easy decisions, and that it is with great reluctance that a reduction in frontline services and an increase in Council Tax has been considered.
He said: "It is acknowledged that Government budget cuts are hitting northern towns like Rotherham more severely. Despite this we have defended services like libraries, children's centres and day care centres, and frozen Council Tax for as long as realistically possible, while other towns have already lost them.
"But we no longer have a choice, and we have faced very difficult decisions because we know every change will impact on someone."
Rotherham's £208.885m budget for 2014/15 will pay for services for those most in need, with the priorities being:
To work with partners to protect and support the most vulnerable young people, families and elderly citizens
To generate jobs and support people to get the skills they need to compete for them
To protect the most important libraries and community buildings and facilities
To buy time to try and find alternative ways of delivering some Children's Centre services
To maintain spending on street cleansing and local community safety, the things people say are important to them
To devise different ways of working to support people earlier to save the need for more expensive interventions later