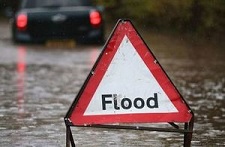 Rotherham Council is busy responding to reports of flooding as a result of the heavy rain, which is expected to continue until tomorrow morning.
With several reports of flooded roads and surface water across the borough, our teams are dealing with issues on the roads as quickly possible.

Earlier today, the Met Office issued an Amber Severe weather warning for Yorkshire & Humber, with disruption to travel predicted.

As the rain continues to fall, we will be keeping people updated with road closures and live incidents at www.rotherham.gov.uk

If you need to report a flood or you are looking for the latest flood warnings you can do so at our Flooding Update page: www.rotherham.gov.uk/water-management-flooding/flooding-update/1

For the latest travel updates follow Travel South Yorkshire on Twitter at @TSYalerts