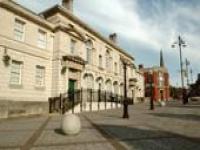 Councillor Chris Read, Leader of Rotherham Council said: "The last 24 hours have been challenging for residents and public services alike as we saw a month of rain in one day.
"As always the people of Rotherham have pulled together. The response of council staff and other public services who worked through the night to minimise disruption and ensure that vulnerable residents were safe has been first rate, and that work is ongoing today.
"There have been a small number of people evacuated from their homes across the borough but everyone is accounted for and we are relieved to confirm that there have been no casualties reported. Our staff were out throughout the afternoon and night checking on people in properties at risk, delivering sandbags and providing assistance.
"The Town Hall was opened up as a rest centre shortly after midnight, primarily to accommodate people rescued from Parkgate by the emergency services. In total 67 people either stayed overnight or sought assistance, all of whom have now returned home or to another place of safety. We are hugely grateful to employees from across the Council who volunteered to return to work to staff the rest centre and ensure everyone was kept safe and looked after.
"I know that many people have been thinking back to the significant flooding that we saw in 2007, and it is notable that the river levels registered last night were actually higher than twelve years ago but overall, to date, the impact has been slightly less which is testament to the work that has been done since then.
"More than 2,200 sandbags were delivered to properties during the floods and we are currently in the process of replenishing stocks. Although the flood waters have subsided over the last few hours and the forecast is drier over the next few days we still have a big task to get people back in their homes, roads open and all our services back operating normally.
"Along with our partners in the Environment Agency and emergency services, we remain vigilant of the water levels and will be ready to respond again when we are needed."