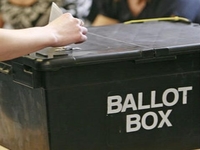 Rotherham Council has received nomination papers from candidates standing in the three constituencies in the borough at next month's General Election.
Papers were received by 4pm on Thursday 14 November for the Rother Valley, Rotherham and Wentworth and Dearne constituencies.
The candidates are confirmed as:
Rother Valley
Allen Cowles – Brexit Party
Nigel Short – Independent
Alexander Stafford – Conservatives
Colin Taylor – Liberal Democrats
Emily West – Green Party
Sophie Wilson – Labour

Rotherham
Dennis Bannan – Yorkshire Party
Adam Carter – Liberal Democrats
Sarah Champion – Labour
Paul Hague – Brexit Party
Gerri Hickton – Conservatives

Wentworth and Dearne
Emily Barley – Conservatives
David Bettney – Social Democratic Party
Lucy Brown – Yorkshire Party
Stephen Cavell – Brexit Party
John Healey – Labour
Janice Middleton – Liberal Democrats
The deadline for members of the public to register to vote is 4.00pm on Tuesday 26 November.
The full statement of persons nominated for each constituency can be downloaded here: