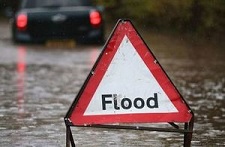 Rotherham Council is now accepting applications for financial support from residents and businesses affected by recent flooding.
The Council will provide an additional £100 to householders, on top of the £500 Community Recovery Grant previously announced by Government. A minimum of 3 months Council Tax relief is also being funded by the Government. In total this will make the value of the scheme around £1,000 to each affected household.
An estimated 120 properties in Rotherham have suffered internal flood damage, although this number may rise as people return home to discover damage after time away, such as a holiday or stay in hospital.
To qualify for the assistance, flood water must have entered the habitable areas of the property and/or the home is considered unfit for habitation for any period of time due to flooding.
Flooding of sheds, gardens or garages is not covered by the scheme. Empty homes, second homes and student accommodation are also excluded.
Alongside the financial support, Rotherham Council continues to provide practical assistance to people on the ground in the worst affected areas, including temporary housing and additional waste disposal.
Free skips are being provided for people to dispose of flood-damaged goods as part of a series of community clean-ups in both residential areas and where there are a cluster of businesses impacted. Full details of when and where the clean-ups are taking place will be announced in due course.
Sharon Kemp, Chief Executive at Rotherham Council said: "This has been an extremely difficult time for people and businesses in Rotherham but once again the resilience and response of local people and public services has been excellent.
"Whilst we remain ready to respond should there be another deterioration in the weather conditions, our efforts are now very much focussed on the recovery phase – helping people and businesses get back to normal as quickly as possible.
"Applications for financial support are open now and we would urge everyone who is entitled to make a claim."
The Government has also announced plans for support to small and medium sized businesses affected by flooding with grants of up to £2,500 and a minimum of 3 months Business Rates relief available.
To qualify, businesses must be able to demonstrate that they have been directly affected by flooding. This could be through damage to property, equipment and/or stock, loss of trade due to restricted access to premises, equipment and/or stock.
Sharon Kemp, Chief Executive at Rotherham Council, added: "We've been out speaking to business and the message coming back loud and clear is that they are in need of practical recovery support – which we are hoping to offer through the provision of skips and cleansing services.
"It was alarming to hear businesses telling us that insurance companies had either refused to offer flood insurance or set premiums beyond their means. This is an issue we are taking up with Government, alongside lobbying for funding for further improvements to flood defences.
"If households or businesses have particular examples of difficulties that they have had in obtaining or paying for flood insurance please do let us know through the Council's website as these examples will help to strengthen the case to Government."
If you are a householder or business and need assistance completing the claim form, please call Streetpride on 01709 336 003.

Apply for flooding help for your home