New Mayor for Rotherham
Published Wednesday, 20th May 2015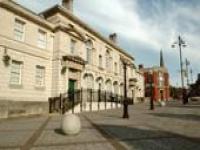 Councillor Maggi Clark becomes the new Mayor of Rotherham at a civic ceremony to be held in the Town Hall on Friday May 22.
Cllr Clark was first elected onto the authority in 1990 for the former Central Ward and served for 12 years before standing down in 2002. A decade later in 2012 she was re-elected back onto Rotherham Council as a member for the Keppel Ward.
She was born and bred in Kimberworth and after leaving Rotherham Girls High School started work in a local bank. She married husband Peter over 45 years ago and left the bank to start a family. When her two children started school she began working part-time at St. John's Green Post Office before eventually becoming a civil servant in the District Valuer's Office in Rotherham.
It was during this time she studied for three years with the Open University before gaining a place at the Sheffield City Polytechnic. "I achieved a 2:1 degree in Development Studies, specialising in Economics and Politics," she said. "Which I don't think is bad for someone bringing up two children, who were only 11 and nine years old when I began."
Cllr Clark first became involved in politics during the steel and coal strikes. "I am the daughter of a steelworker and the steel strike was where it all began for me politically," she said. "Then during the miners' strike I met many women who were involved and their strength and courage changed my thinking."
After standing down from her initial 12-year term of office on the council in 2002 she went to work for Victim Support before working for Wentworth and the Dearne MP John Healey, and Linda McAvan, MEP for Yorkshire and the Humber.
She was elected back onto the council in 2012 and a year later she retired from work to devote her time to both the authority and her family, which now includes three granddaughters.
Her husband and Consort, Peter, retired two years ago as a housing manager for a national housing association. Prior to that he was employed for many years at British Gas, having left school to take up an apprenticeship. During his time with British Gas he also gained a degree, with the Open University.
The couple, who are passionate about their family, also enjoy walking in their spare time and it is the new Mayor's favourite hobby. She is proud to be a founder member of the Rotherham Walking Festival and the lottery-funded Rotherham Churches Tourism Project. This produced a series of guided walks, cycle rides and scenic drives to enable people to explore some of the diverse and beautiful communities and histories of Rotherham and South Yorkshire.
They have chosen two local charities to support during their year in office - Start A Heart 24/7, which aims to provide 24 hours access to external defibrillators and safe boxes, and the Rotherham Neuro Support Group. This is a charity run by volunteers geared to supporting the people and their families across Rotherham who have suffered a stroke and other neurological disorders.
The installation ceremony for the new Mayor will be followed the next day, Saturday, May 23, by the annual Civic Parade and Service, which leaves the Town Hall at 10.25 am and ends with a special service in the Rotherham Minster at 11 am.
Led by the South Yorkshire Police Band the parade will make its way to the Minster for an 11 am service, led by the Vicar of Rotherham, Canon David Bliss. The sermon will be given by the Rev. Jan Hardy, the former Vicar of Thorpe Hesley, who is now the Vicar of Barmby Moor, and the readings will be given by Irene Hartley, MBE, and Sarah Crossland, now of the National Churches Trust.
The parade will include the Lord Lieutenant of South Yorkshire and Mrs. Andrew Coombe, the High Sheriff of South Yorkshire and Mrs. John Holt, the Managing Director of Rotherham Council, Commissioner Stella Manzie, and the Leader of Rotherham Council, Cllr Chris Read.
Other dignitaries taking part will include the Deputy Lord Mayor and Consort of Sheffield, Cllr Denise and Cllr Terry Fox; the Civic Mayor and Mayoress of Doncaster, Cllr Paul Wray and Mrs. Elizabeth Marsden; the Mayor and Mayoress of Barnsley, Cllr Brian Mathers and Mrs. Mary Mathers and the Mayor and Consort of Wakefield, Cllr June Cliffe and Mr. Jack Cliffe.
For the first time, Rotherham's "Little" Mayor, will be taking part. This year it is Zoe Fathers of Dinnington, who will be Mayor for the Day later in the year in October.