New campaign seeks a new generation of councillors in Rotherham
Published Tuesday, 28th July 2015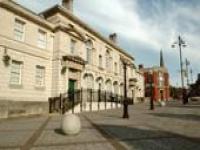 A campaign to find a new generation of councillors with a commitment to represent local residents and a passion for change has been launched in Rotherham.
The 'Be a Councillor' campaign, led by the Local Government Association in partnership with Rotherham Council, is calling for local people who are enthusiastic about improving their community to stand to be a councillor in the next round of elections in May 2016.
Rotherham is due to have all-out elections next year, and the campaign aims to ensure that the largest number of capable, energetic and engaged prospective candidates from the borough's population of over 250,000 put themselves forward to represent their local area.
The campaign in Rotherham is the first of more localised 'Be a Councillor' programmes the LGA aims to run across the country.
In the coming weeks, information stands will be located across central points in the borough with details about how people can get involved. Further information is available online through an interactive learning programme, which helps those interested in getting involved understand the day-to-day role of a councillor. An online tool asks potential candidates questions to understand if they are qualified to stand for election. Those who are interested in finding out more will be invited to training and development sessions in September.
Sir Derek Myers, the Lead Commissioner in Rotherham, said: "All councils need strong local leadership by people with a passion for making it a better place to live in.
"We know that when things go wrong in local areas, people can lose confidence in their council, but this campaign is about tackling that head on and finding the right people to get involved and make improvements.
"We want people to come forward who are up for the challenge and ready to hit the ground running. This is a chance for those people that think they have got what it takes to step up, have their say and make a real difference in Rotherham."
Cllr Peter Fleming, Chairman of the LGA's Improvement Board, said: "Decisions made by councillors affect the lives of everyone in the area in countless ways, from education to housing and regeneration, community safety, environment, roads and helping local businesses to thrive. As Rotherham has all-out elections in 2016, this is the right time to encourage people who want to stand up for their local community to consider becoming a councillor.
"The people of Rotherham have a lot to be proud of, and the authority is changing. We hope to encourage a real mix of people who want to make a difference to come forward - no other role gives you a chance to make such a huge difference to the quality of life of people in your local area."