New look Advisory Cabinet announced
Published Monday, 14th December 2015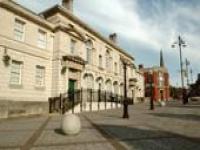 A new-look Advisory Cabinet has been announced by Rotherham Council Leader, Cllr Chris Read.
A further three councillors have taken up lead roles, working alongside the Government-appointed Commissioners.
The newly-appointed Members are Cllr Taiba Yasseen for Neighbourhoods and Cultural Services, Cllr Emma Wallis as the lead for Housing and Cllr Saghir Alam will lead on Corporate Services.
Cllr Read, who announced the changes at a meeting of the Full Council on 9 December, said: "I put the initial Advisory Cabinet in place at a time when the governance arrangements at the Council were unclear – allocating five portfolio holders to work with the five Government-appointed Commissioners.
"My colleagues have done a great job during this time, supporting the Commissioners to deliver the changes outlined in our Improvement Plan.
"We are now looking ahead to the New Year, as the Council continues to move forward it is important we have the right team leading on our key priorities – representing the views of local people, and Rotherham councillors."
The new members join the Leader, and existing Advisory Cabinet Members below:
Cllr Gordon Watson - Deputy Leader and Children and Young People's Services
Cllr David Roche - Adult Social Care and Health
Cllr Denise Lelliott – Jobs and the Local Economy
Cllr Kath Sims – Waste, Roads and Community Safety