Rotherham Council Leader announces new Cabinet
Published Friday, 20th May 2016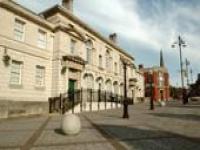 Leader of Rotherham Council, Cllr Chris Read, has announced his new-look Advisory Cabinet - with two new figures joining the senior political leadership of the authority.
Cllr Dominic Beck has been appointed to lead on Housing, and Cllr Emma Hoddinott will take on the portfolio of Waste, Roads and Community Safety – taking up roles vacated by former Cllr Kath Sims and former Cllr Emma Wallis.
Deputy Leader Cllr Gordon Watson continues as lead for Children and Young People's Services, with other sitting Advisory Cabinet members retaining their unchanged portfolios as below:
• Cllr Denise Lelliott - Jobs and the Local Economy
• Cllr David Roche - Adult Social Care and Health
• Cllr Taiba Yasseen - Neighbourhood Working and Cultural Services
• Cllr Saghir Alam - Corporate Services and Budgeting
Cllr Read, who took up the leadership in March 2015, said: "My Cabinet colleagues have done a great job over the last year supporting the Commissioners to deliver the changes outlined in our Improvement Plan, and work towards our new vision for the borough.
"I want to pay tribute to the hard work of former Councillors Sims and Wallis, whose service was a credit to the borough. After consultation with colleagues, I'm able to appoint two strong councillors, Dominic Beck and Emma Hoddinott to take over the roles that were left vacant after the election.
"Together with Commissioners, and working with the Council's new permanent senior leadership team, we will drive forward further improvements as we continue to move forward towards the restoration of full powers."
The new Advisory Cabinet was announced at a meeting of the Full Council today (Friday 20 May).