Rotherham Metropolitan Borough Council
Rotherham Council's Town Centre Masterplan is forging ahead with site investigation works underway on Forge Island as part of the flood defence works.
24 May 2019
---
A helping hand is on the way for 'green' and healthy eating community projects across Barnsley, Doncaster and Rotherham.
23 May 2019
---
Kind-hearted resident Ellen Royston helped kick-start the borough's Foster Care Fortnight activities by donating her handmade blankets to local foster carers.
22 May 2019
---
Helping and supporting Rotherham's people and communities is the focus for Rotherham's new Mayor, who was sworn in today (Friday 17 May).
17 May 2019
---
More than 70,000 suspected illicit cigarettes have been taken off the streets in a major trading standards operation in Rotherham.
16 May 2019
---
Plans to ensure all Rotherham libraries are based in the heart of local communities are set to be explored.
13 May 2019
---
Parents and schools in Rotherham will be consulted under new proposals to help improve the educational experience for children with special educational needs and disabilities.
13 May 2019
---
A brand-new family friendly exhibition is being launched at Rotherham's Clifton Park in time for May Spring Bank Holiday and the summer holidays.
9 May 2019
---
Rotherham Heritage Services, based at Clifton Park Museum, has received a National Lottery Heritage Fund grant of £49,200 for an exciting heritage project working with young people.
23 April 2019
---
There's a real buzz around the annual Rotherham Council garden competition this year as it introduces a new category to help out the bees and the butterflies.
23 April 2019
---
More children across Rotherham are going to a school of choice from September than ever before, new figures out today reveal.
16 April 2019
---
No. 26 Makers Emporium is celebrating its five-year milestone this April.
16 April 2019
---
Children who are looked after by Rotherham Council are receiving a "strong service" which has "significantly improved" according to findings from the latest Ofsted visit.
15 April 2019
---
Police Community Support Officers (PCSOs) in Rotherham will have more power in their pedals after securing funding from Rotherham Council to purchase electric bicycles.
12 April 2019
---
Rotherham residents will be able to enjoy more local "Fun Palace" activities in future, with an increase in the number of libraries holding events and an expansion of the organisation in our region.
12 April 2019
---
Story time is coming to Rotherham Theatres – which has teamed up with the borough's libraries to host a "pop up library" alongside some of the most popular tales for little ones in April and May.
12 April 2019
---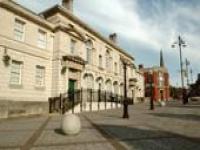 Next week Rotherham Council's Cabinet is expected to agree an ambition to end rough sleeping in the borough, as part of adopting a new Homelessness Prevention and Rough Sleeper Strategy.
9 April 2019
---
A licensing scheme which has improved the standards of privately rented accommodation in areas of Rotherham is set to be rolled out further if it is agreed by the Council's Cabinet on 15 April.
9 April 2019
---
Rotherham mums are being offered an hour's free childcare so they can attend potentially life-saving cervical screening.
8 April 2019
---
After a year in the making Rotherham Council opens its new tennis and basketball courts at Clifton Park this coming weekend.
5 April 2019
More from around Rotherham