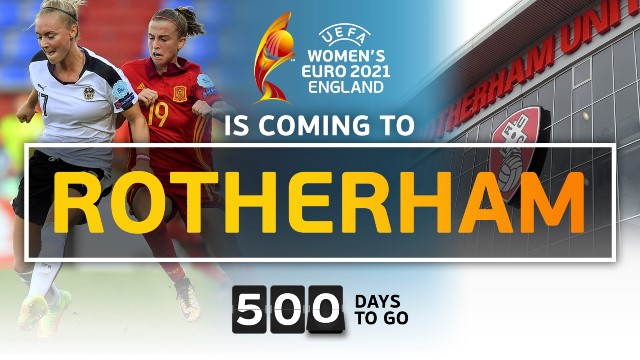 Rotherham is looking forward to welcoming the UEFA Women's EURO tournament to the town in 2021. Rotherham United's New York Stadium will host four games of the UEFA Women's EURO 2021, including one quarter final game, between 7 July and 1 August.
Rotherham joins Sheffield, Milton Keynes, Brighton & Hove, London, Manchester, and Southampton as host venues, with the showpiece final due to take place at Wembley Stadium.
This is fantastic opportunity for the town to showcase women's football and for visitors from around the world to see what an amazing place Rotherham is. Rotherham folk are some of the most welcoming people in the country, and I'm sure we will all come together to welcome this great event to our town. Rotherham has already shown it can successfully host European games having welcomed the UEFA Euro Men's Under 17 finals in 2018, inspiring children to get involved in the world of sport. This now gives us the opportunity to inspire the next female footballers of the future and to promote participation in culture, sport and physical activity

Cllr Sarah Allen – Rotherham Council's Cabinet Member for Cleaner, Greener Communities
If you are a Rotherham resident, there are a number of ways you can get involved in the tournament, from attending the matches to decorating your business, home or village in celebration of the event.
Register your interest in buying tickets
Volunteering opportunities
There are also a number of volunteering opportunities available, with further details to be released later this year. Register your interest below so that you can be kept up-to-date on the volunteer programme and be sent a reminder when applications open.
Register your interest in becoming a volunteer