Digital Collaboration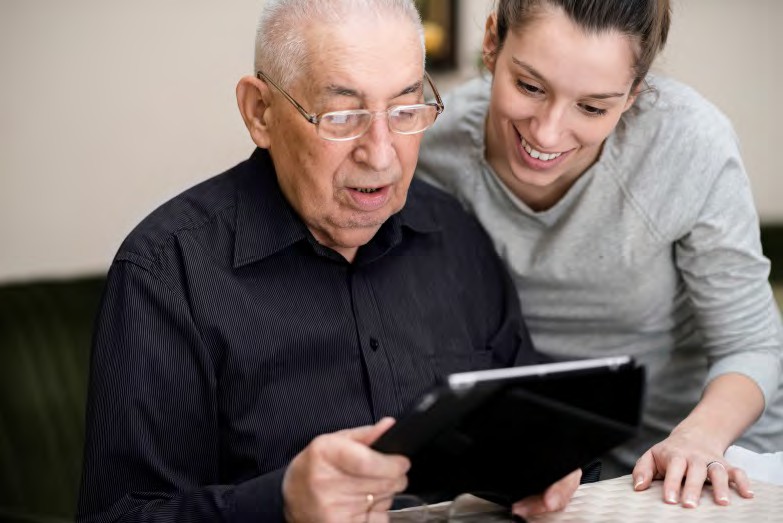 "Digital technology will enable the Council and its partners to tackle complex issues and work together seamlessly"
Austerity, shrinking funding, fewer resources and the rising demands of social care, which threaten to engulf local authority budgets, have increased Council focus on partnership working and sharing resources – aiming to allow citizens to be more self-reliant, reduce costs, jointly procure services and share expertise. Data, whether open data or data shared within relevant public sector organisations, is central to redesigning service delivery.
It is arguably Health and Social Care integration which more than any other area will define and shape the future of digital public services. The key challenges do not lie in the technology, but in truly placing the individual service user at the heart of service design, dealing with the cultural and governance implications of this. The service user needs to be more in control – of their data and how it is collected and shared and of how services are linked to reflect individual needs and preferences.
Integration of health and social care is one of the Government's major programmes of reform. At its heart, it is about ensuring that everyone can get the right care and support, whatever their needs, at every point in their care journey. But it is also about efficient, joined-up and digital services. The demand for a closer integration of health and social care is providing an opportunity for a radical redesign of the appropriate services.
One important way in which partnership working will be enabled is through RMBC playing a key role in the NHS' Local Digital Roadmap (LDR), which was co-authored by the Council. The goal of the LDR is to ensure that all electronic health and social care records will be fully interoperable so that patient records become paperless by 2020. The Council has already set out its aspiration in delivering several key improvements as part of the Local Digital Roadmap and the wider Health and Social Care integration agenda. Examples of these initiatives include:
A new RMBC system for Adult's and Children's social care which will bring a range of efficiency benefits and improvements to processes within social care. These include easier access to key data for social workers, the facilitation of integration with NHS systems and other RMBC systems, secure online access for customers, improved reporting capabilities and better workflow;
Important national initiatives such as Better Care and the Child Protection Information Sharing project;
Progressing efforts to create common sets of standards allowing the sharing of data and integration of systems across local services. This will be enhanced by the adoption of a common identifiers such as NHS numbers and unique property reference numbers;
Delivery of a NHS web portal, known as 'The Rotherham Care Portal', that allows the multiple data sources to be interrogated from one location by Health and Social Care practitioners;
Development of shared infrastructure, shared Wi-Fi and mobile working solutions to allow practitioners to work seamlessly from all Health and Social Care settings across Rotherham and then wider across the NHS Sustainability and Transformation Plan (STP) footprint – which includes South Yorkshire and Bassetlaw (SYB).
The aspiration to develop a South Yorkshire shared care record joining up the information across all providers in the SYB footprint;
Automated electronic notifications to Social Care to alert the Council when one of our clients leaves acute care;
The removal of fax as a communication mechanism between Health and Social Care and the removal of all paper from the process as far as is practicable;
Using Big Data and associated Business Intelligence evidence to better understand our customers and inform decisions. In particular we will seek to generate customer insight by sharing and analysing data held by the Council and the local NHS community. By developing a better understanding of customer data we can transform it into business intelligence and use it to inform service planning and policy development - this will allow us to target our services where they are needed the most and intervene early where appropriate. We will explore the potential of engaging a local academic institution to assist us with this complex analysis.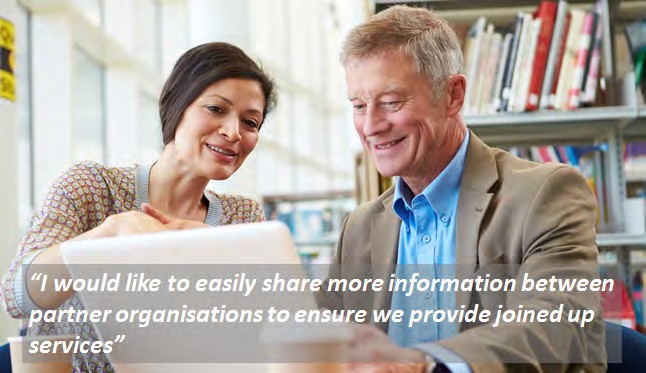 In addition to using technology to foster closer working between Health and Social care we will also exploit technology to encourage digital confidence and self-reliance in our citizens. Some of these initiatives are listed below:
We will continue to promote Assistive Technology to support self-care in the home as part of our agenda to encourage early prevention of health problems. Assistive Technologies cover a huge range of tools and services and include devices such as sensors in the home to detect falls and unusual patterns of movement, wearable devices and mobile apps allow citizens, organisations and families to monitor the health of those in receipt of social care whilst interactive pill dispensers assist in reminding clients to take their medication. QR codes can be placed around the home and these, when scanned from a phone or tablet, will guide dementia sufferers through everyday tasks such as making a cup of tea. These are just a few examples from a rapidly developing area – we will continue to monitor new assistive technology developments and exploit them where appropriate;
Social media and other communication tools will be used to engage with the next generation and exploit the opportunities offered by the commercial technology market. This will include tools which automatically trigger video calls with families and carers when a client's behaviour appears to be unusual;
We will seek to further encourage the provision of electronic client monitoring and smart care-visit rostering by stipulating their use in to the contracts which we let with service providers such as Domiciliary Care and Residential Provision. Through better use of these technologies we can reduce the cost of the services we commission whilst increasing the ability of our clients to remain self-reliant;
We will foster digital confidence amongst our social care clients through expanding the network of free, citizen Wi-Fi and equipping our care practitioners with devices such as tablets to engage citizens and assist them in getting online;
Through the use of online support tools we will promote our personalisation agenda and allow the citizen to engage with care professionals and describe their own requirements for their personalised support;
We will provide online information on accessibility to community buildings and other establishments within Rotherham;
We will ensure the engagement of children and young people through digital solutions to improve a child's involvement in their assessment, reviews, case conferences and have their wishes and feelings heard.
A final set of priorities within the scope of the Digital Collaboration work-stream relates to the way in which we aspire to use data and technology to join-up with the wider partnership community including the Police, Voluntary Groups, Schools, Citizens and Businesses:
Providing real-time access so that practitioners from partner organisations such as the NHS and Police can access the Council's client data where it is appropriate and legal to do so. Similarly Council staff will be able to access partner systems and we will thereby work towards a single view of the citizen;
We will work with partners across all sectors – including the voluntary sector – to develop multi-agency services. An example of this is our continuing work with Voluntary Action Rotherham to further develop the GISMO tool (Group Information Services Maintained Online) to direct customers to a wealth of information about organisations and services which exist to offer support and guidance;
Working towards having all publishable data sets available on our website, with our communities engaged and able to use our data to solve problems, create jobs and encourage enterprise;
Having real-time access to internal integrated data by liberating information from departmental silos;
Supporting the development and promotion of a common form of ID assurance;
Supporting the principle of 'Government as a platform' – whereby the technology is standardised across the public sector in order to create a fertile area for collaboration between public sector bodies and citizens – making use of freely available data presented in a consistent and accessible format;
Promoting financial inclusion by delivering on our Universal Credit online self-service obligations;
Providing consistent access to management information wherever systems allow, and ensure that new systems are built or procured with this in mind;
Continuing our successful shared services work which is underpinned by technology;
Continuing to deliver appropriate support and services to schools via the Schools Connect service to ensure safe and secure ICT facilities.