Our plan for The Year Ahead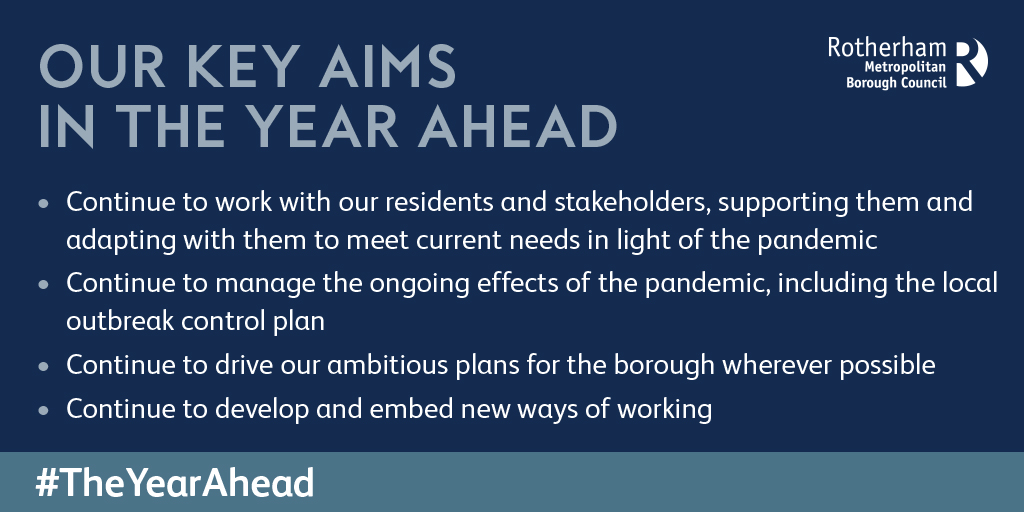 The Year Ahead is our plan for operating within and recovering from the Covid-19 pandemic. It sets out our priorities and gives details about the key actions we will take through to May 2021, providing the basis for the development of a longer-term plan for the borough.
Covid-19 has had a fundamental effect on the way the Council works and will continue to affect how it operates in the short, medium and long term.
Social distancing, track and trace and other measures to reduce the impact of the virus are likely to be part of our daily lives for the foreseeable future. This will mean the impact of the pandemic will continue to be felt across the borough for a long time, affecting our economy, local communities and daily life.
This plan sets out how the Council will work with Rotherham communities, residents and businesses in these uncertain times; providing ongoing support to those who continue to be affected by the pandemic and helping to build resilience as we all adapt to the challenges ahead.
Our key aims in The Year Ahead are:
Continue to work with our residents and stakeholders, supporting them and adapting with them to meet current needs in light of the pandemic
Continue to manage the ongoing effects of the pandemic, including the local outbreak control plan
Continue to drive our ambitious plans for the borough wherever possible
Continue to develop and embed new ways of working.